Concrete Stamping vs. Stamped Overlays: What's the Difference?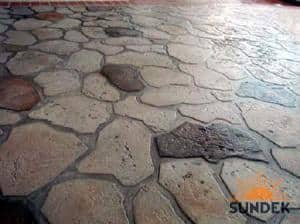 Which is the best for you – concrete stamping, or a stamped overlay? How are the two options different? The increasing number of decorative concrete options property owners must wade through makes it hard for them to find that perfect one.
After all, it's supposed to be that concrete surfaces last for several years. It's true that concrete longevity can be a good thing, because it means no paying frequently for repairs or replacement, but such longevity can be a bad thing, as it may mean being stuck to a certain design or texture with which you're not pleased.
This downside of concrete cost and durability makes understanding the options vital. At SUNDEK of Houston (formally Bullion Coatings), we take pride in helping customers choose the right solution.
What is Concrete Stamping?
Concrete stamping creates great designs and texture in a concrete surface. With this method, patterns and texture are made in fresh concrete through the use of special mats. The approach can be used to create appearance of natural slate, stone, brick, and even wood. The benefit of concrete stamping is that it can be used to add visual interest and style to what otherwise would be a very boring surface.
What is a Stamped Overlay?
The same beautiful patterns and textures that are made through concrete stamping can also be achieved with a stamped overlay, however the process is slightly different. Instead of applying the stamp to freshly laid concrete, an overlay is applied and the stamping is then done to it. The overlay is a thin layer of a special type of concrete product that can adhere to an existing concrete surface.
Choosing the Best Approach for Your Project
Stamped overlays are the best option for projects in which there is an existing concrete surface that simply needs a new look. As long as the concrete surface is structurally sound, it can be made to look brand new again simply by applying an overlay and then creating the desired texture and pattern. Any cracks or similar imperfections in the old concrete get repaired before the overlay is applied.
Yet it's not always possible to save a concrete surface, making a complete replacement necessary. Moreover, there could be areas where a concrete surface needs to be installed because there's not oe there already. In both instances, traditional concrete stamping is the approach of choice.
Whether you're looking to upgrade an old concrete floor, deck, patio or walkway, or you're looking to have brand new concrete surface installed, contact SUNDEK of Houston to have the job well done.