Concrete Floors – Decorative Refinishing & Repair
At SUNDEK of Houston, we have been resurfacing concrete floors at residential and commercial properties since 1998.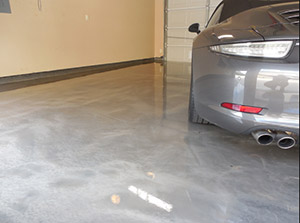 What is concrete floor refinishing?
Concrete floor refinishing is when you apply a coating to the top of existing concrete, transforming its look. Refinishing concrete is a great way to get a brand new look without having to tear out your concrete floors. In addition to saving yourself the mess and hassle of a demo job, you'll also save time and money. Additionally, resurfacing is a better flooring solution for the environment and less wasteful than tearing out existing concrete.
Get a free estimate for your concrete floor
What types of floors can SUNDEK of Houston resurface?
We can resurface floors anywhere! Here are some spaces where we commonly install coatings.
What designs are possible with concrete resurfacing?
When resurfacing existing concrete floors, the design options are limitless. We have numerous patterns, textures, and colors available (see more about stained concrete). Also, if there's a particular material you really like—such as wood, brick, tile, or others—we can mimic that look with stamped concrete. In residences, we can create a concrete floor that features the logo of your favorite sports team. At commercial properties, we can include your company logo on the floor.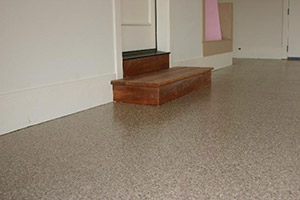 If my floor is cracked or damaged, can it be repaired?
Yes! At SUNDEK of Houston, we specialize in concrete floor repair whether your concrete surface is cracked, spalling, flaking, or has any other type of damage. We can look at the damage, repair it, and determine how to prevent it from happening again. We will also make the repair look seamless so you'll never know the damage was there.
What is maintenance like on a SUNDEK coating system?
Our clients are pleasantly surprised at how easy it is to care for a SUNDEK flooring system. First of all, the most important aspect to an easy-to-maintain surface is sealing it. Our high-quality sealers will protect your surface from general wear and tear, fading, spills (from things ranging from oil to chemicals), and more. You can read more about the importance of sealers.
General maintenance includes removing dust and other debris from the surface as needed, or at least every few weeks. Remove spills as you see them. For stains that are hard to remove, check out our maintenance guide.
Contact us about your concrete floor
We would love to talk to you about your concrete floor! Here are a few ways to contact us:
Call us at (281) 859-4696
We service all the major cities in the area including Houston, Missouri City, Pasadena, Baytown, Sugar Land, Pearland, League City, Katy, Aldine, Spring, The Woodlands, Humble, Meadows Place, Mission Bend, Cinco Ranch, Bellaire, Deer Park, La Porte, Cypress, Jersey Village, and the surrounding areas.