Stamped Concrete Houston - Patios, Driveways & More
At SUNDEK of Houston, we have been installing beautiful stamped concrete patios, driveways, and pool decks at residences and commercial properties since 1998.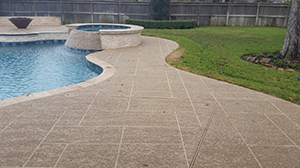 See more stamped concrete pictures
Contact us about your stamped concrete project
How do you stamp concrete?
A concrete stamp is used to imprint a pattern on freshly poured concrete. However, if you already have a concrete surface, you can get stamped concrete on that same surface without having to tear out your existing concrete. We can apply a concrete overlay right on top of your existing surface then stamp the coating, giving your concrete the look of natural stone, brick or even wood at a fraction of the cost of the actual material! Learn more about stamped concrete overlay cost.
Can I stamp concrete myself?
We recommend hiring an experienced contractor such as SUNDEK of Houston (see our Better Business Bureau rating). A professionally trained decorative concrete contractor knows all the potential pitfalls of stamping concrete, the best approaches to each step in the process, and can make sure your project turns out the way you want it to.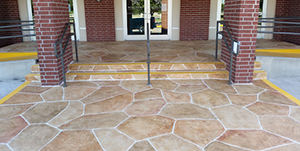 What kinds of stamped concrete patterns and colors can I choose from?
When working with SUNDEK of Houston, the design options are endless:
You can have your floors stamped to mimic the look of any material you like, whether it's brick, cobblestone, limestone, wood, or any other material. See more stamped concrete patterns.
You can even have a custom stamp created if there's something specific you like that we haven't done before.
There are also many colors to choose from. You can have the entire surface stained one color, or you can include some variation.
You choose the design, and we'll make it happen!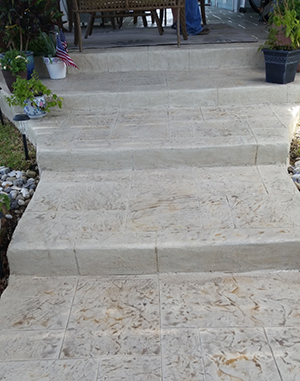 Can I stamp my damaged concrete surface?
Yes! In addition to resurfacing concrete, we specialize in concrete repair. So if you have any type of damage—whether it's cracking, spalling, flaking, or fading—we can repair it. We will also assess the damage, determine the cause, and help prevent the damage from happening again.
What is maintenance like for stamped concrete?
The key to maintaining any decorative concrete is having your surface sealed. At SUNDEK of Houston, we apply high-quality sealers to our projects so they last and maintain their beauty. A sealer will protect your surface from spills, sun damage, and damage from everyday use.
Related: Is Stamped Concrete Slippery?
General maintenance includes removing dirt or other debris from the surface every few weeks. For stains that are hard to remove, check out our maintenance information page.
Contact us about your stamped concrete project
We would love to talk to you about your stamped concrete project.
Call us at (281) 859-4696