Commercial Concrete Resurfacing
If you own a commercial property and want work done on indoor or outdoor surfaces, SUNDEK of Houston can help. We have been installing decorative concrete and epoxy floors at commercial properties since 1998. Whether you want stained concrete, stamped concrete, or have something else in mind, we can make your vision a reality.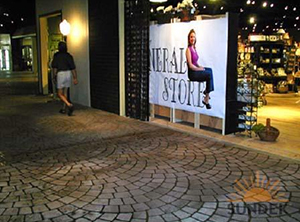 Contact us about your commercial concrete project
What types of commercial concrete can SUNDEK of Houston work with?
We have worked with businesses all over Houston and the surrounding areas. Here are just some of the types of commercial concrete services we offer.
(Splash pads and pool decks)
At waterparks, safety is critical. At SUNDEK of Houston, we install beautiful surfaces that we texture to prevent slip-and-fall incidents. That's why we're a trusted commercial concrete contractor in the area for installing pool decks, splash pads, and more.
Hotels & Motels
(Entries, lobby floors, porte-cochères, pool decks, dining areas, and bathrooms)
For locations with lots of guests, it's critical that your surfaces are durable enough to withstand all the foot traffic they'll experience. We install high-quality, long-lasting surfaces that look beautiful, too.
(Dining spaces, kitchens, bathrooms, all restaurant flooring, and retail floors)
In locations such as restaurants and retail stores where you have employees and customers walking around, there's potential for spills and other messes—so it's necessary to have floors that are durable and slip resistant. We can help you get both of those qualities and make your floors look good, too.
Offices & Business Parks
(Courtyards, porte-cochères, lobbies, kitchens, break areas, bathrooms, office flooring, and vertical surfaces)
It's no secret that a more aesthetically pleasing workspace is good for employee morale. Let us help you get beautiful floors in your office buildings and business parks that are also easy to clean and durable.
Healthcare, Schools & Churches
(Laboratories, bathrooms, meeting rooms, waiting rooms, hospital floors, and congregational spaces)
With all the traffic these heavily used spaces get (from people, cars, rolling carts, and other equipment), it's important to think about the quality of the floors and other surfaces. At SUNDEK of Houston, we can help you get the right surface for your space, and we can work with you to complete it within your timeline and budget.
(Warehouses, airport hangars, shop floors, and storage facilities)
We have installed floors in spaces ranging from mechanic shops to airport hangars, so we are well versed in creating surfaces that last. Our epoxy systems can withstand the weight of tools and heavy machinery.
Apartments & Condominiums
(Pool decks, common areas, lobbies, entries, playground surfaces, and gym flooring)
In addition to creating surfaces that are durable and slip resistant, we love working with our clients to turn these surfaces into works of art that coordinate nicely with their property.
Military & Government
(Pool decks, training facilities, and more)
Our many years of experience makes us highly qualified to work on facilities ranging from locker rooms to pool decks and everything in between. We work with our clients to make sure we complete your project within your budget and timeline.
Parks, Clubs & Municipalities
(Playground surfaces, pool decks, and gym flooring)
The design options for your decorative concrete or epoxy surface are endless. We love working with our clients to figure out the best design for their space. We have many colors, textures, and patterns to choose from, and you can even request a custom design (for example, we have created surfaces that feature company logos).
Vertical Applications
(Retaining walls, planters, and building walls)
If we can create it on a floor, we can create it on a wall! We design vertical surfaces so they match or coordinate with your surrounding features.
Contact us about your commercial project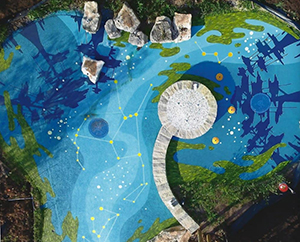 How long will it take to complete a resurfacing project at my commercial property?
The amount of time it will take depends on the size and complexity of the design. In addition to quality workmanship, we pride ourselves on working closely with our clients to meet deadlines so business can continue.
Commercial concrete services we provide:
Acrylic finishes
Concrete repair
Concrete sealing
Epoxy coatings
Textured overlays
Maintenance
Maintenance staff at commercial properties are often pleasantly surprised to discover how easy it is to maintain decorative concrete and epoxy surfaces. General maintenance includes removing dirt and other debris every few weeks by sweeping or hosing it off with a hose or pressure washer. For stains that are hard to remove, refer to our maintenance guide.
A high-quality sealer will also make your surface non-porous, making it easier to keep clean and protecting it for years to come.
Contact us about your commercial project
We would love to talk to you about your commercial project! Here are a few ways to get ahold of us:
Call us at (281) 859-4696
We service all the major cities in the area including Houston, Missouri City, Pasadena, Baytown, Sugar Land, Pearland, League City, Katy, Aldine, Spring, The Woodlands, Humble, Meadows Place, Mission Bend, Cinco Ranch, Bellaire, Deer Park, La Porte, Cypress, Jersey Village, and the surrounding areas.