Custom Splash Pad & Spray Park Coatings
We create spray parks and splash pads that are designed to fit the style and imagination of our clients.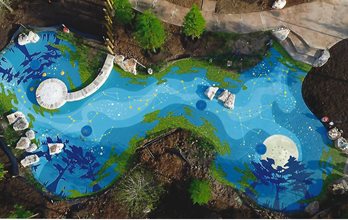 The coatings we apply to these types of locations are slip resistant, making them safe for visitors and employees. SUNDEK coatings are also cooler than typical gray concrete concrete, so they're comfortable to walk on—even on hot days. Its non-porous quality makes it easy to maintain.
Before applying the coating, our contractors determine what preparation work needs to be done to the existing surface. We always detail and sand the surface to smooth everything out. We also make any necessary repairs. After the coating is applied and it is dry, we detail the surface. Finally, we spray our colored finish coat to achieve the look and design our customer has chosen.
Once complete we have a beautiful area for people to enjoy for years to come!
To discuss all your options, please contact us for a free estimate.
See our other commercial concrete services.