Custom Splash Pad & Spray Park Coatings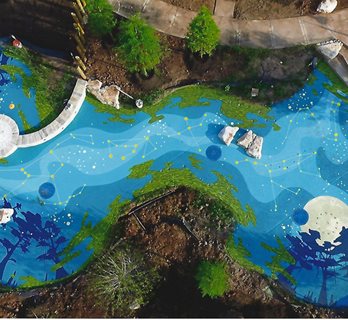 More Pictures of Waterparks & Splash Pads
Need a good spot for your guests or residents to cool down on hot days? Consider installing a splash pad (also called a spray park or water playground).
Why install a splash pad?
Splash pads provide a great spot to cool off on hot days. Since they're zero depth, some of our clients prefer them to pools for safety reasons. However, some of our clients include them in addition to pools to give people options.
Related: Pool Deck Resurfacing
Request a free estimate
Where to put a splash pad
Splash pads can be installed in a variety of locations including:
Apartment or condo complexes
Community parks
Hotels
Waterparks
…and more!
Are splash pads slippery?
Splash pads are installed with a specific texture that prevents slip-and-fall accidents. At SUNDEK of Houston, we take every precaution to make sure the surface we install will be safe for young children (and anyone else).
Are splash pads comfortable to walk on?
We use SUNDEK products, which stay cooler than typical gray concrete. We also texture the surface in a way that makes it less hot to the touch, so it's comfortable for bare feet.
Design options
When you work with us at SUNDEK of Houston, we have essentially no limitations when it comes to designing your splash pad. We have a wide variety of colors to choose from, and we can create just about any design. Take a look at our gallery of splash pads for ideas. If you already have a design in mind, let us know. We love making our customer's visions a reality!
Maintenance
Janitorial and maintenance staffs are always pleased to discover that maintaining a SUNDEK-installed splash pad is simple to maintain. We use a high-quality sealer on all our surfaces which makes them non-porous and protects them from water damage over time.
Check out our local splash pad installations
Contact us about your splash pad project!
Call us at (281) 859-4696
Or fill out the form on this page.
We service all the major cities in the area including Houston, Missouri City, Pasadena, Baytown, Sugar Land, Pearland, League City, Katy, Aldine, Spring, The Woodlands, Humble, Meadows Place, Mission Bend, Cinco Ranch, Bellaire, Deer Park, La Porte, Cypress, Jersey Village, and the surrounding areas.