An Eye-Catching Splash Pad Beautifully Depicts Louisiana Terrain & Night Sky
SUNDEK of Houston installs a splash pad that's safe, comfortable to walk on, and also a work of art.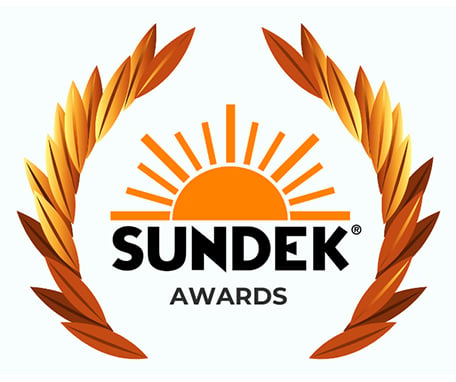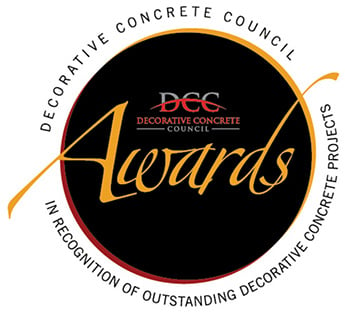 SUNDEK 2018 Project of the Year
DCC 1st Place in Decorative Coatings – Over 5,000 sq. ft
DCC 1st Place in Concrete Artistry – Over 5,000 sq ft
DCC WOW Award
About 30 miles south of Houston, Texas, is Missouri City—a quaint community with lakes, parks, and a trail that runs for 4 miles along the Brazos River. Within the community, Sawmill Lake Club, a beautiful recreation complex with event centers, lakeside fire pits, pools, and more, provides a place for the community to gather. During the planning phase for the complex, the design firm TBG planned for a large, elegantly designed spray park and splash pad. They had big plans for the look of the space, so the general contractor, Millis Development & Construction, brought SUNDEK of Houston onto the project to make the vision a reality.
Splash pads provide a wonderful spot for children to run around, play, and cool off. The fact that they are zero depth and therefore don't pose a drowning risk is one of the reasons they are so popular. Even though they are safe in that regard, it is key for installers to also ensure that splash pads are slip resistant to prevent potential slip-and-fall accidents. SUNDEK products have been specifically formulated to prevent accidents like this. By using superior product and implementing techniques gained over years of experience, SUNDEK contractors have become trusted splash pad installer for many cities, community centers, water parks, and other facilities across the country.
Contact us for a free quote
For this particular splash pad, SUNDEK of Houston used Classic Texture in combination with SunColor. Classic Texture, SUNDEK's most popular coating for pool decks, is the product that launched SUNDEK's business upon its development in 1970. It's a perfect choice for splash pads because it doesn't get too hot to the touch, has a texture that makes it comfortable to walk on, looks fantastic, and holds up really well to wear and tear. SunColor is a water-based acrylic finish coat that can be used in tandem with Classic Texture. It gives decorative concrete surfaces a fresh new look.
When TBG designed the splash pad, they had an artful concept in mind: an array of colors and patterns that mimicked the swamps of Louisiana with the stars reflected in the water. The SUNDEK of Houston crew was up for the challenge of creating this ambitious design. At SUNDEK, we have a wide range of colors available for each product. We have 16 signature colors, but our contractors are always willing to create custom colors to meet the needs of the client's vision. In this case, SUNDEK of Houston mixed 14 custom colors to create the vivid splash pad design that consists of 400 stars, 6 constellations, 3 trees, grass in 4 different colors, and a moon made up of 4 colors.
Unfortunately, a week before SUNDEK was to begin their work, disaster struck for Houston when Hurricane Harvey hit. The category 4 hurricane was devastating to metropolitan Houston and much of southeast Texas. When the crew came to begin their work on the project after the hurricane events were over, they had a literal mess to deal with—on top of the general grief experienced during and after a natural disaster such as this. There was about three inches of mud on top of the foundation where SUNDEK of Houston would be installing the coating for the splash pad.
With Millis Development & Construction, the general contractor on the project, the crew at SUNDEK of Houston established a timeline for the project. It was a tight one, but the team was determined to make it happen—they would need to finish the project in just 15 days. The crew got to work removing the mud and properly preparing the surface for the splash pad coating. Within 6 days, the SUNDEK of Houston team had prepared the surface, applied the coating and texture, and laid out the pattern. The remaining 9 days were spent mixing and meticulously applying the custom colors to create the desired design.
As if the current situation didn't pose enough of a challenge, the crew experienced 3 days of rain during their final push to finish the project. However, a little rain and mud isn't anything SUNDEK contractors can't handle. The team at SUNDEK of Houston completed the project on schedule despite the delays, resulting in a gorgeous space where visitors of the Sawmill Lake Club can cool off and enjoy themselves. The visionaries of this one-of-a-kind design, TBG, were more than pleased with how it turned out. TGB noted that the performance and work SUNDEK of Houston completed for this project is why they specified and continue to specify them for projects, saying that the splash pad "turned out beyond expectations."
Contact us about your project
We would love to talk to you about your splash pad, pool deck or waterpark!
Call us at (281) 859-4696