Pool Deck Resurfacing
If you're looking to update your swimming pool and cool it down, pool deck resurfacing is the ideal solution. SUNDEK of Houston has more than 30 years of experience resurfacing residential and commercial pool decks.
What is pool deck resurfacing?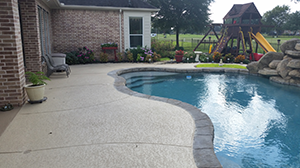 See more pool deck pictures
When we resurface concrete, we apply a coating on top of your existing pool deck, then customize it to give it a look you love. You end up with a pool deck that looks brand new without having to rip out your concrete and start from scratch. Resurfacing saves time and money (and you avoid the mess of a demolition project).
Contact Us About Your Pool Deck
Can damaged concrete pool decks be resurfaced?
Yes! Damaged concrete—whether it's cracked, chipped, spalling, or fading—can be resurfaced as long as the surface is viable.
Design Choices
We can create just about any look you want by customizing the pattern, texture, and color of your pool deck (see more about our stained concrete). If there's a particular material you love (such as brick, wood, limestone, or anything else), we can create that look with stamped concrete at a fraction of the cost.
If you're not sure what look you want, we suggest browsing our portfolio for ideas. If you do know what you'd like, show us pictures and we can make it happen!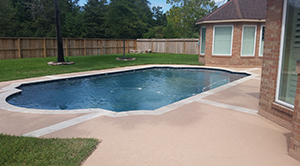 Keep in mind that in addition to pool decks, we can resurface walkways, patios, retaining walls, and more. You can have all of these spaces resurfaced so they match or coordinate with one another.
Safety
For pool decks, it's critical to have a surface that doesn't get too slippery when wet. At SUNDEK of Houston, we add texture that makes your surface slip-resistant, reducing the likelihood of slip-and-fall accidents.
Comfort (cool decking)
And as long as we're installing a new surface for your pool deck, we also want to make sure it's comfortable to walk on. Many of our clients ask if we do cool decking (sometimes called kool decking). Cool decking is the process of applying a coating that lowers the surface temperature of a pool deck. We are happy to tell our clients that SUNDEK coatings are much cooler than typical gray concrete surfaces. The texture we apply makes it comfortable to walk on with bare feet. We also guide our clients towards choosing lighter colors for their pool deck, as darker colors tend to absorb more heat.
Pool Deck Maintenance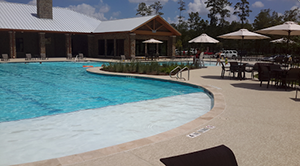 Caring for a decorative concrete pool deck is surprisingly simple. The key is to have the surface sealed, as a high-quality sealer will protect it from damage, fading, and general wear and tear. General maintenance includes removing debris with a hose, leaf blower, or broom every few weeks or so. For stains, you can use a non-abrasive commercial cleaner. Get specifics about maintenance here.
Contact us about your pool deck
We would love to talk to you about your pool deck project! Here are a few ways to contact us:
Call us at (281) 859-4696
We service all the major cities in the area including Houston, Missouri City, Pasadena, Baytown, Sugar Land, Pearland, League City, Katy, Aldine, Spring, The Woodlands, Humble, Meadows Place, Mission Bend, Cinco Ranch, Bellaire, Deer Park, La Porte, Cypress, Jersey Village, and the surrounding areas.