Stained Concrete Houston - Floors, Patios & More
SUNDEK of Houston has been staining concrete at residential and commercial properties since 1998.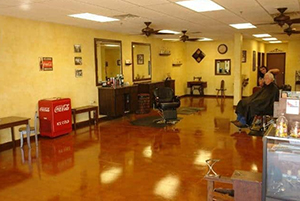 Contact us about your stained concrete project
What's so great about stained concrete?
In addition to being beautiful, stained concrete is also durable and eco-friendly. Homeowners and business owners love that it's also easy to maintain. With so many color options to choose from, you can customize stained concrete so it blends in perfectly with the aesthetic of your home or business.
What are the options for staining?
Customers often ask if staining is for indoors or out. We can do both! Stains are great for coloring all sorts of decorative concrete, including stamped concrete patios and interior concrete floors. We have several products to choose from, and the right product depends on the look you want.
If you give us a call, we can help determine which product is best for your needs (281-859-4696). You can also watch this short video (2 minutes) that provides an overview of our stains:
Staining product comparison
SunAcid. This option penetrates the concrete surface with earth-toned colors. With this acid-based chemical stain, you can get a translucent marbled effect.
SunH2O. Vibrant colors that range from opaque to translucent. You can layer and combine colors, so there are many possible customizations. This product's adhesive properties make it last a long time (though it doesn't etch the surface with a chemical reaction). Sometimes allergies can be aggravated by acid-based stains, so people with allergies or other sensitivities often choose this product.
SunDye. You can use it on its own or with SunAcid to get a variety of colors. This product is soluble in water or acetone. When used with water, you get color variation. When used with acetone, you get a darker, monotone look.
Contact us to find out which product is right for you
Can I stain my concrete floor myself?
While it's possible to do it yourself, we recommend having an experienced contractor such as SUNDEK of Houston stain your existing concrete floor. When stains are not applied correctly, they can be prone to fading, chipping, flaking, or peeling—not what you want after investing time and money on a project.
At SUNDEK of Houston, we are well versed in the nuances of staining and the common pitfalls that can occur. We are also able to add aggregates such as quartz beads, colored glass, pebbles, and more. These aggregates enhance the look of your concrete and they help make it slip resistant.
What is maintenance like for a stained concrete floor?
Maintaining a stained concrete floor is simple and straightforward. First off, SUNDEK of Houston applies a high-quality sealer on top of your surface. This sealer protects it from potential damage from the sun, overspray from sprinklers, daily use, spills, and more.
General maintenance includes removing dust and other debris every few weeks or more often. For stains that are hard to remove, look at our maintenance page.
Can you stain a damaged concrete floor?
Yes! In addition to our staining, stamping, and resurfacing concrete services, at SUNDEK of Houston we also specialize in concrete repair. We can assess the damage, repair your concrete, and determine how to prevent the issue from occurring again.
Contact us about your staining project
We would love to talk to you about your stained concrete project.
Call us at (281) 859-4696