What should I do if my concrete cracks or becomes damaged?
Contact a concrete contractor as soon as you discover any concrete damage—even if the damage seems minor. Untreated damage may continue to get worse until the surface is repaired, turning a small problem into a big problem.
Contact us about your damaged concrete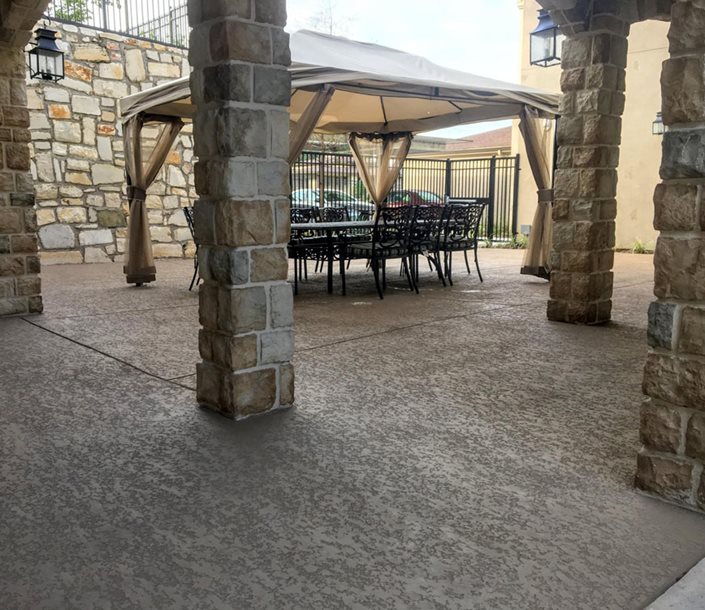 What surfaces does SUNDEK of Houston repair?
We can fix the concrete at your home or business, including:
Concrete patios
Concrete driveways
Pool decks
Floors
Parking lots
And more!
Can I fix the damage myself?
We recommend working with an experienced concrete contractor when it comes to concrete repair. For example, at SUNDEK of Houston, we have been repairing concrete since 1998. So we have years of experience with many types of damage. In addition to repairing the damage, we can identify the source and help figure out a solution to prevent further damage from occurring.
Blend repaired concrete with the rest of your surface
At SUNDEK of Houston, we can repair the damaged area and then resurface it so everything blends together nicely. If you're interested in a different design, we can give you a brand new look, whether it's with stained concrete, stamped concrete, or a different style you're interested in. If your concrete has cracks, you might be interested in our Custom Scoreline Effect.
How much does concrete repair cost?
The cost of your project depends on the severity of the damage and the type of restoration work you need to have done. The best way to get an idea of how much your project will cost is to contact us directly so we can give you a free estimate.
Contact us about your repair work
Here are a few ways to get ahold of us:
Call us at (281) 859-4696
Request a Free Estimate