Baytown Pool Deck Resurfaced with Beautiful Stone Finish
SUNDEK of Houston crews resurfaced a plain gray pool deck to create the look of stone in a color that fits the client's style perfectly.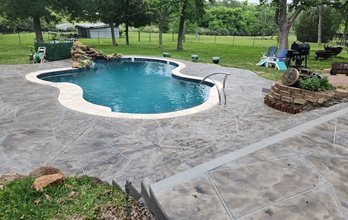 At a residence in Baytown, TX, SUNDEK of Houston used a Tuscan coating to resurface a plain gray pool deck, patio, and set of stairs, transforming it into a beautifully designed outdoor space.
When Vincent Penne, design consultant with SUNDEK of Houston, first arrived at the residence of a new client, he was met with a blank slate. The couple shared with Vincent that they wanted a decorative surface for their pool deck at their home in Baytown, a coastal suburb of Houston. "At first, I brought up Classic Texture, which the husband was interested in looking into," says Vincent. "The wife, however, wanted something a little fancier. The two both agreed that they didn't want to spend a crazy amount of money on the project though." That's when Vincent introduced them to SUNDEK's Tuscan product.
Get a free quote
Tuscan is an overlay that can be hand-troweled to create a custom masterpiece. With Tuscan, SUNDEK crews can do custom scorelines, create the look of flagstone, slate, and other masonry effects. Additionally, it can be combined with other products to produce a look that's unique to each project. Because it can be achieved with just a thin coat, you don't need a lot of material—so it's a reasonably priced solution for anyone who wants to create the look of custom stone or other designs that are often achieved with stamped concrete. In addition to its aesthetic qualities, Tuscan is durable, making it a great solution for a space that needs to endure lots of foot traffic, such as at a home pool deck.
Vincent's idea to use Tuscan was intriguing to the clients, and when they saw the sample Vincent brought with him, they were sold. "They immediately approved the sample I brought," said Vincent, noting that everything down to the color of the sample was perfect. "It was a good match for the exterior of their home and other materials in their outdoor area including the travertine coping around the pool." The couple decided to have the coating applied on their pool deck, patio, and stairs connecting the two areas.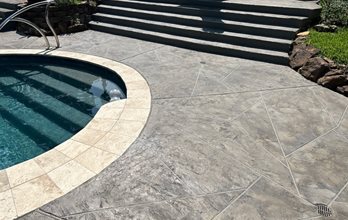 The homeowners love the color of their new surface, which complements other outdoor features including the pool's coping. To get this custom color, SUNDEK used an acrylic finish coat of Tweed Gray for the base color then used a custom mix of SunH2O in Midnight and Montego for highlights.
With the design approved, SUNDEK of Houston set out to begin their work. After properly preparing the surface for the coating, crews used tape lines to lay everything out, determining where the hand-drawn grout lines would be placed based on the stone sizes that had been agreed upon in the design plan. After taping all the lines, the client approved the scoreline locations.
When the project was nearly complete, the crews encountered a major hurdle—unfortunately, the final color was not quite right. After reassessing the design and determining that the color of the new deck did indeed veer from the color of the sample, SUNDEK set out right away to find a solution.
The Tuscan overlay had already been laid, and the texture was complete. Rather than remove the perfectly good product which they had already hand-drawn and carved scorelines into, SUNDEK decided to apply Stamp Rehab, a system that provides a "makeover" for stamped concrete.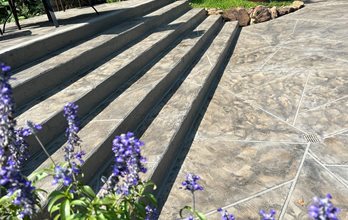 SUNDEK of Houston crews worked diligently to get everything just right—including the grout color which they applied by hand using paintbrushes.
Using Stamp Rehab, they were able to apply a new base color, Tweed Gray, and then add two highlights: a custom combination of Midnight and Montego. Due to the base color that was previously applied, crews needed to hand-paint all grout lines with Smoke Gray using paintbrushes. This painstaking task required careful attention to detail—a task SUNDEK crews were up for in their efforts to ensure that their client was happy with the result.
After the coloring was complete, crews applied a clear sealer, SUNDEK A-25 Clear Finish Seal, to lock in the stain and protect the surface from wear and tear plus other potential damage. Everything was topped with aluminum oxide for slip resistance.
Though SUNDEK of Houston crews faced the color setback, they made it right with the client who was thrilled with the final surface. "In the end, the client was really happy," says Vincent. In fact, SUNDEK later received a call from the client who wanted work done on another area of their backyard. Crews were pleased to have provided the clients with an installation that met their needs—both financially and aesthetically.
Before & after pictures:
Do you need resurfacing done on your pool deck?
We'd love to hear about your project ideas. We service all the major cities in the area including Houston, Missouri City, Pasadena, Baytown, Sugar Land, Pearland, League City, Katy, Aldine, Spring, The Woodlands, Humble, Meadows Place, Mission Bend, Cinco Ranch, Bellaire, Deer Park, La Porte, Cypress, Jersey Village, and the surrounding areas.
Contact us for a free quote!
Call us at (281) 859-4696
Related reading: Cool Deck Coatings