Cool Pool Deck Coatings
A common concern among pool owners is making sure the material of their pool deck doesn't get too hot during summer. A good way to prevent ending up with a deck that is unbearably hot for bare feet is to apply a cool coating on your deck.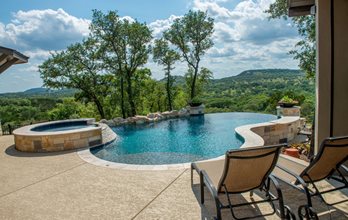 This sunny pool area in Houston, TX, was resurfaced using Classic Texture to provide a comfortable deck for the homeowners to walk on.
What is cool decking?
Cool decking for a pool, is a pool deck that doesn't get too hot to the touch, even on Houston's hottest summer days. It is achieved by applying a cool pool deck coating.
Get a free quote
What factors can make a pool deck hotter?
There are several factors that contribute to making the surface temperatures of pool decks rise:
Topcoat material. Some materials tend to absorb less heat than others. Acrylic, for example, doesn't absorb as much heat as dark stone or plain gray concrete.
Topcoat color. Darker colors tend to absorb more heat. A white pool deck will absorb less heat than a pool deck that is tinted blue.
Pool deck location. If a pool deck sits in direct sun, it will absorb more heat than a pool deck that gets even just some dappled shade.
Surface texture. A textured surface doesn't retain as much heat as a smooth surface.
Having a cool decking for pools makes hanging out poolside even more enjoyable.
Can you make an existing concrete pool deck cooler?
Yes. Whether you are installing a new pool deck or want to make your existing concrete pool deck cooler, you can have a cool pool deck coating installed.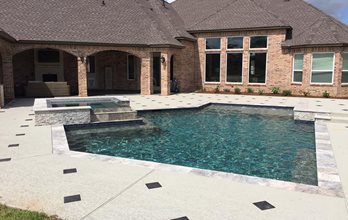 Although we added squares of black to create an interesting pattern at this pool deck in Katy, Texas, the majority of the pool deck is a gray color. Using the light color in combination with using our Classic Texture product keeps it comfortable to walk on—even during the hottest days of the year.
Is a cool decking more expensive than concrete?
Because a cool decking material is applied as a coating on top of existing concrete, yes, it is more expensive than just a gray slab of concrete. But homeowners and business owners find that reducing the heat of their pool deck through cool decking is affordable and worth the extra cost. The total cost of your project depends on a few things:
New pour versus existing concrete. Whether you're pouring a new slab of concrete or applying a coating on top of an existing slab will affect the price.
Condition of existing concrete. If you're pouring on an existing slab, the condition of your concrete surface can impact the cost (for example, are there uneven spots or cracks that need to be filled?).
Location. Cost of materials varies depending on where the project site is located.
Design. Will you be including intricate details or multiple colors? This can impact the price.
Product. There are a range of products you can choose from for the coating for your cool pool deck surface.
So how much does it cost to get a cool decking? The best way to get an accurate quote for your cool pool deck is to get an estimate from a contractor. Contact SUNDEK of Houston to get a free quote.
What material is used for cool decking?
When pools are being installed, a question that often comes up is, "What is the coolest pool deck surface?" Contractors use various decking products to keep your pool deck cool, but we find that a product made of acrylic and concrete tends to absorb less heat than other materials.
SUNDEK of Houston uses acrylic applications to create cool decking. Here are the products we use for cool decking.
Are cool decks slippery?
When a reputable contractor applies a cool pool deck coating properly, they will make sure it is slip resistant. SUNDEK of Houston uses products that create a textured surface that isn't slippery, even when wet.
If you decide to opt for a surface that is textured with aggregates that are added into the sealer, you need to make sure that you have your sealer reapplied often enough to maintain the non-slip surface.
Cool decking colors
When choosing a color, keep in mind that darker colors retain more heat, so it's best to opt for lighter colors.
At SUNDEK of Houston, we have a variety of colors you can choose from. We also do custom colors. We've tested all our colors to see which reflect the most heat. Most of our colors are LEED certified, which means they stay especially cool.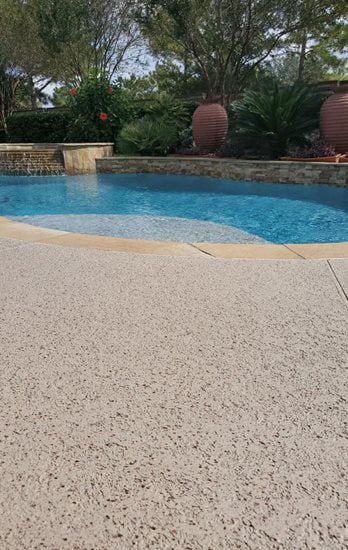 For this backyard pool deck in Katy, TX, we applied Classic Texture and added aggregates for interest.
See our Pool Decks photo gallery
How long does a cool decking last?
A cool decking lasts as long as other decorative concrete surfaces. So if you care for it properly, it'll stay looking great for at least two decades. At that point, you will probably need to either patch things up or resurface it. Here are some steps to take to care for your surface:
Sweep or hose off dirt and debris regularly so it doesn't sit on your deck. Things like dirt spots or leaf litter can stain your surface over time.
Wipe up spills from oils and other contaminants when they occur so they don't stain or damage the surface.
Don't let wet towels or pool toys sit on the deck for really long periods of time as this can attract mold and mildew.
Get your surface resealed every few years to maintain its look. You can discuss you're your contractor how often your deck needs to be resealed.
Address small cracks as soon as they occur so they don't turn into larger problems.
Pool deck contractors near me
If you're looking for a contractor who can apply a cool pool deck in Houston, contact SUNDEK of Houston.
Call us at (281) 859-4696