Sealing Concrete Increases the Life of Decorative Coatings
Sealing your concrete increases the lifespan and beauty of your decorative concrete surface. Here's what you need to know.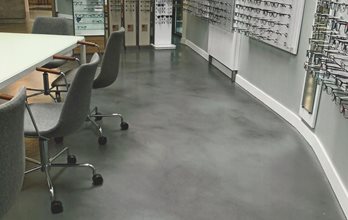 After spending the money on a nice decorative concrete surface, you'll want to keep it looking great for years to come. The best way to do that? Seal it!
Why seal your decorative concrete?
A sealer is necessary to protect your surface. Here are the benefits:
Protects your surface from damage.
Keeps water and other liquids from soaking in and causing issues.
Prevents mold, mildew, and more.
How to seal a concrete surface
The specific steps you should follow to seal your surface depends on a few factors such as what type of surface you're working with and what type of sealing product you're using. The following tips are meant to provide general information. Get detailed information by reading the manufacturer's instructions for the sealing product you choose.
When applying sealer to plain gray concrete, everything should be stripped from the surface such as paint or any sealers that were previously applied. Sand or etch the surface so it's porous and ready to accept the sealer.
When applying sealer to decorative concrete, the surface must be completely clean. See detailed information about cleaning concrete here.
The surface must be completely dry before you apply sealer.
Distribute the product across the surface evenly and avoid pudding.
Follow manufacturer instructions to learn how many coats of sealer you should apply.
Follow manufacturer instructions to learn how long you to wait until walking or driving on the surface (it's typically anywhere from 24 to 48 hours).
To effectly apply a coat of sealer, follow manufacturer instructions and do thorough research before you begin the sealing process.
Can I seal my own concrete?
While many people try to tackle sealing their concrete surfaces themselves, we recommend having it done professionally. Here are the most common DIY sealer issues we see:
Bubbling caused by applying too much sealer
Imperfections when sealing in hot or cold temperatures
Discoloration when sealer is applied too soon to a new coating
Work with a reputable contractor in your area such as SUNDEK of Houston to ensure your sealer is applied properly.
Contact us for a free quote
Applying Sealer: Pros & Cons
Overall, we highly recommend applying a sealer, as its the best way to protect your surface for many years. Before sealing, though, it's nice to know what to expect.
Pros of Applying Sealer
Protects concrete from damage such as flaking, wear and tear, color fading from UV rays, chemical and oil spills, saltwater, and more.
Prevents damage during freeze and thaw cycles.
Makes the surface easier to clean than unsealed concrete.
Stops mold and mildew from forming.
You can include additives that make the surface non-slip.
Cons of Applying Sealer to Concrete
If you apply it to a smooth surface without texture, a sealer can make the surface slippery. However, an experience contractor knows that this can be fixed by including non-slip additives in the sealer. Even if you're applying sealer to a textured surface, non-slip additives are a great idea.
Including sealer does add an extra cost to your decorative concrete project. However, the cost of the sealer will save you money in the long run because it will make your surface last longer.
As time passes, your sealer will gradually lose effectiveness and you'll need to reapply it. Check the manufacturer's instructions and/or check with your contractor to learn how often you'll need to reapply. On a positive note, reapplying your sealer is less expensive than having to resurface your concrete slab due to damage.
How often do I need to reseal my surface?
In most cases, sealer needs to be reapplied every few years so your surface continues to get the protection it needs. Exactly how often it needs to be resealed depends on a few things such as location of the decorative surface and how it's used.
What types of sealers does SUNDEK of Houston use?
We only use high-quality SUNDEK sealers.
SunClear EcoProtect is best for indoor concrete floors.
SunClear UltraProtect is best for outdoor floors and high-traffic areas indoors.
AcryClear 25 is good for use on surfaces such as stamped concrete and exposed aggregate. You can even use it on pavers.
Contact us about sealing your concrete
Call us today at (281) 859-4696