Cleaning Concrete: Tips for Maintaining a Decorative Surface
Steps to maintaining your decorative concrete surface so that it looks fantastic for years to come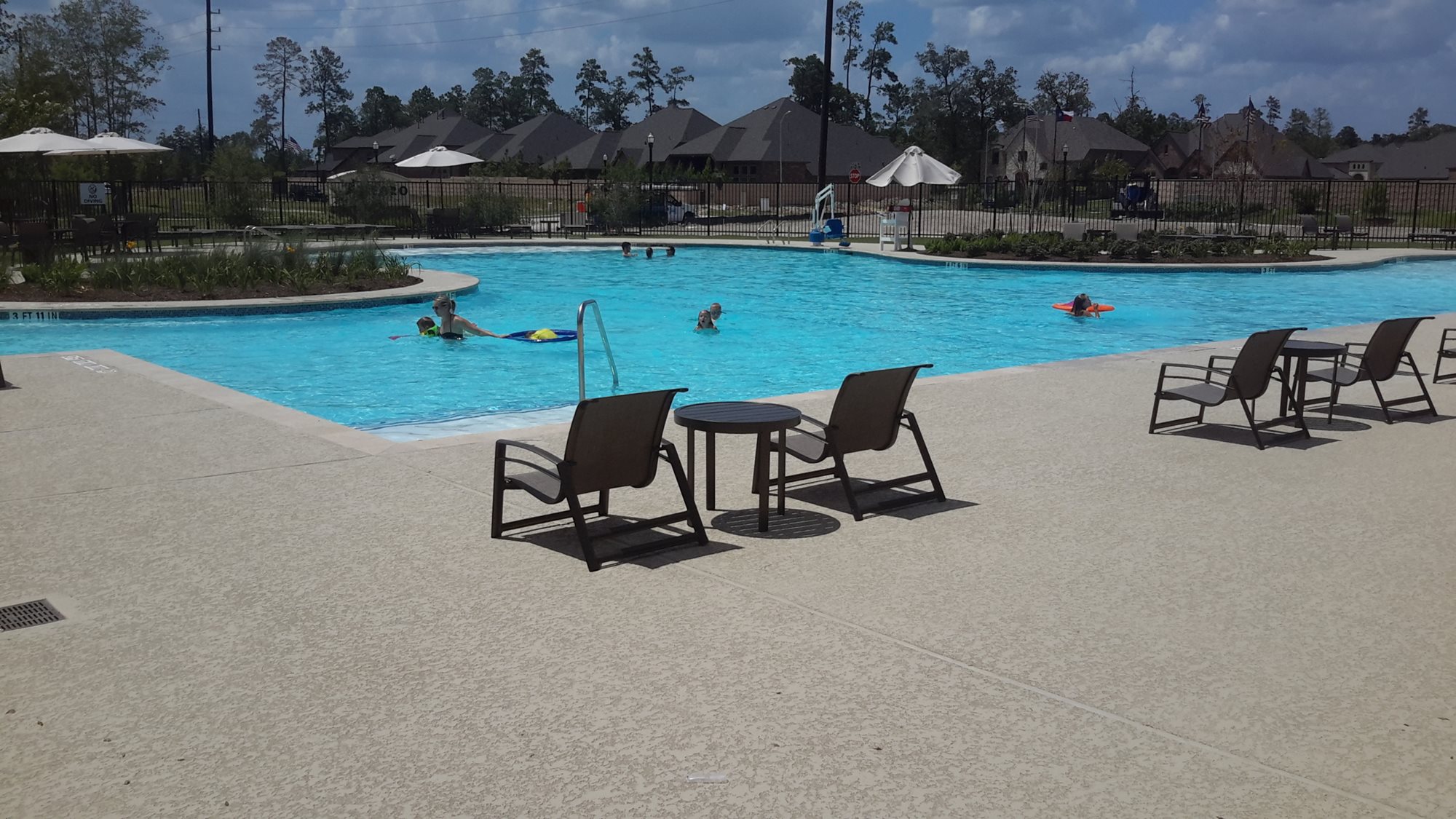 Decorative concrete surfaces—especially those that get lots of use, such as this pool deck installed by SUNDEK of Houston—need to be well maintained so they last a long time.
Most people know that the key to preserving the appearance of your decorative concrete surface is a high-quality sealer. They're right, but did you know that regular maintenance is also key? Nothing is maintenance-free, and that goes for decorative concrete, too. Learn how to care for your surface so it looks great, even after years of use.
Contact us about your concrete
Caring for your decorative concrete surface
Here are the basic steps for taking care of your surface. Following these steps will help you keep it clean, preserving its beauty and durability.
Get rid of dust and debris frequently. Use a broom or leaf blower to keep dust, dirt, and other debris off your surface. This will prevent staining.
Wipe up spills as soon as possible. Another way to prevent staining and damage from occurring on your surface is to clean up any spills as soon as you can, using a cleaner if necessary (see our maintenance guide which covers how to address various spills and stains).
Assess sealer and reapply when needed. A coating of sealer doesn't last forever. Since that's what protects your surface from damage, you need to check it to make sure it's still working and viable. Reapply when it loses its effectiveness. You can learn more about concrete sealers.
Prevent scratches. By putting felt pads and or casters on your furniture legs, you can prevent scratches and other damage from furniture on your concrete floor. It's worth the extra effort!
Give your surface a basic clean. Cleaning your surface a few times a year or as needed is a great way to prevent buildup and staining.
How to give your concrete a basic clean
Here are the steps to performing a basic clean on your decorative concrete surface. The details of what you need to do depend on whether you're dealing with an indoor or outdoor surface.
Use a broom or blower to remove debris.
Use a garden hose with a high-pressure nozzle or a power washer to rinse the surface with clean water if you're working with an outdoor surface; use a mop and warm water for indoor surfaces.
Use a stiff-bristle brush to scrub especially grimy areas outdoors; a non-abrasive cloth for indoor surfaces.
Can I clean my decorative concrete coating myself?
Yes! With the right tools and information, you can clean your surface yourself. (See above for the basic steps.) Always follow instructions on any cleaning products you use.
Here's what you'll need to clean your own decorative concrete surface:
Outdoor surfaces: hose or power washer, scrub brush
Indoor surfaces: mop and bucket, non-abrasive sponge or cloth
Getting rid of stubborn stains
First, try power washing (for outdoor surfaces) and a diligent scrub with a mop and warm water (for indoor surfaces). If that doesn't work, you may need to use a cleaning solution. Before putting anything on your surface, verify that it's formulated for the type of surface you have. If you're unsure, consult with the contractor who installed your decorative concrete surface.
Cleaning products to use on decorative concrete
There are times when water doesn't just cut it and you'll need to use a cleaner. Before putting any kind of cleaner on your decorative concrete, verify that it's appropriate for your surface. If it's not, you might etch or discolor your concrete.
Contact the contractor who installed your decorative concrete or another reputable contractor if you're unsure about what product to use on your surface.
The type of cleaning product you use depends on what type of stain you have. For example, citrus-based cleaners are good for grease; muriatic acid is good for rust; trisodium phosphate (TSP) is good for algae, etc. Read our maintenance guide for more information on what product to use for various stains.
What to do when cleaning doesn't help your decorative concrete
Due to a variety of reasons, your surface may be beyond the point where a good cleaning makes it look good again. If that's the case, don't worry—there are options for making it look great again without having to tear it all out and start from scratch.
Concrete resurfacing: If you decide to have your concrete resurfaced, a contractor can prepare your existing concrete and then apply a coating right on top of it. With custom colors, textures, and patterns, they can make it look like a brand-new surface.
Concrete staining: If you opt for concrete staining, a contractor can apply a color of your choice to your existing surface, giving it a fresh new look.
Find a concrete contractor near you
We serve all of Houston and surrounding areas, Missouri City, Pasadena, Baytown, Sugar Land, Pearland, League City, Katy, Aldine, Spring, The Woodlands, Humble, Meadows Place, Mission Bend, Cinco Ranch, Bellaire, Deer Park, La Porte, Cypress, Jersey Village, and the surrounding areas.
If you're not sure if you fall into our area of service, contact us!
Call us at (281) 859-4696
Email us at [email protected]
Or fill out this form