Concrete Walkways & Entryways
A walkway or entryway is often the first impression visitors have of your residential or commercial property. Let us help make it a good one! At SUNDEK of Houston, we have been resurfacing walkways and entryways since 1998.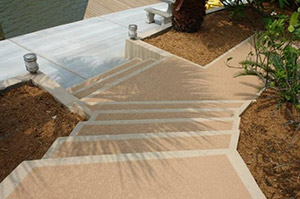 See more walkway pictures
Contact us about your walkway or entryway
Why resurface a walkway or entryway?
Homeowners and business owners may choose to resurface their walkway or entryway for a number of reasons. Whether your surface is damaged, faded, or has an outdated design, we can help make it look brand new.
What if my walkway or entryway is damaged?
Even if your surface is cracked, spalling, faded, uneven, or chipped, SUNDEK of Houston can help. We are experts in concrete repair, so we can assess the damage, repair it, and help determine ways to prevent the damage from happening again.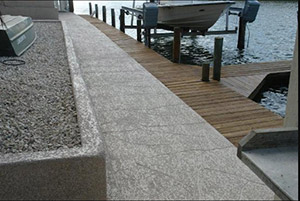 What are the design options for walkways and entryways?
When working with SUNDEK of Houston, your design options are limitless. There are a wide variety of patterns and textures to choose from, and if you don't see one you like, we can create a custom design. If there's a particular look you like such as wood, brick, limestone, cobblestone, or any other material, we can create that look using stamped concrete. When it comes to color, there are many possibilities when it comes to staining concrete. We have many colors to choose from, and we can also create custom colors.
Keep in mind that we can apply coatings to all viable concrete surfaces, so we can match or coordinate nearby surfaces (such as a driveway or patio) with your walkway or entryway.
Can SUNDEK of Houston fix an uneven walkway?
Yes! When we resurface your concrete, we'll apply a thicker coating wherever its needed. The result will be an even surface that doesn't have trip hazards or spots where water puddles.
Can I add on to my walkway?
If you want to widen your walkway or extend its length, we can resurface the entire walkway so it looks seamless. You won't be able to tell where the old walkway ends and the new one begins.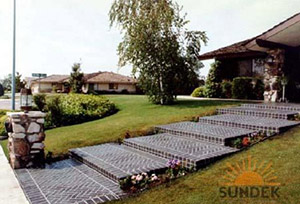 What is maintenance of a SUNDEK surface like?
Maintaining your resurfaced walkway or entryway is straightforward. The best thing you can do to preserve its look is have it sealed. At SUNDEK of Houston, we work with high-quality sealers that will protect your surface from damage and general wear and tear for years to come. You'll need to have sealer reapplied, but it is worth the investment. (After we take a look at your particular project, we can advise you on how often you'll need to reseal your surface.)
General maintenance includes removing dirt and other debris every few weeks using a broom, hose, pressure washer, leaf blower, or the like. For stains that are hard to remove, consult our maintenance guide.
Contact us about your walkway or entryway
We would love to talk to you about your project.
Call us at (281) 859-4696