Healthcare, Schools & Churches – Decorative Concrete Coatings
Surfaces at healthcare facilities, schools, and churches need to be durable. We're here to help!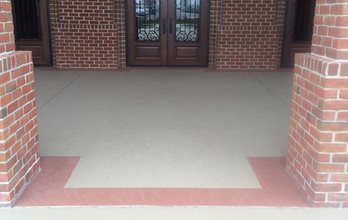 The entrance to a school in Katy, TX, resurfaced by SUNDEK of Houston.
See more pictures of healthcare facilities, schools and churches
If you're looking for a flooring solution that's beautiful, non-slip, and easy to maintain, we're here for you.
CONTACT US ABOUT YOUR PROJECT
Services we provide
Project timeline
Because we know you don't want to be closed for a long time due to construction, we work hard to make sure we get our jobs done as quickly as possible. The time it takes to complete your project depends on the size of your surface, the condition of your surface, and what design you want.
Contact us about your project
Call us at (281) 859-4696