Houston Concrete Driveway Repair & Resurfacing
Whether you need to repair your existing driveway or just want to refresh its look, SUNDEK of Houston can help. We have been installing concrete coatings on driveways at residential and commercial properties since 1998.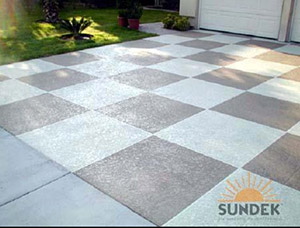 See more driveway pictures
Driveway resurfacing design options
With SUNDEK products, we have the ability to create just about any design you want. We have a variety of patterns and textures to choose from, and we can do custom designs, too.
If there's a particular look you like such as brick, cobblestone, limestone, or any other material, we can create that look for you with stamped concrete. We can also stain your concrete—you can either choose one color or include a variety of colors. View our color options—if there's a different color you'd like, keep in mind that we also create custom colors.
Note: Sometimes customers come looking for information about resurfacing a cement driveway, so we like to clarify: cement is an ingredient in concrete. Concrete is a combination of cement, water, and aggregates.
Contact us about your driveway
Cost of resurfacing a driveway
You'll pay less to resurface your driveway than you would to replace your driveway. But the final cost depends on the size of your driveway, the condition of your existing surface, and the type of design you're interested in. Contact us so we can give you a free estimate!
Is a concrete coating durable?
Yes! At SUNDEK of Houston, we are experienced in installing coatings at locations with heavy use such as mechanic shops and warehouses. We pride ourselves in providing our clients with a tough driveway that looks good, too.
Maintenance
The most critical step to protect your decorative concrete driveway is to have it sealed. At SUNDEK of Houston, we use high-quality sealers that will protect your driveway from common wear and tear, oil spills, and more. For best results, you'll need to have the sealer reapplied every few years (frequency depends on several factors such as how your surface used, its exposure to the elements, etc). You can read more about sealing concrete here.
Other than having your driveway sealed, general maintenance includes removing dust or other debris every few weeks. You can use a leaf blower, broom, hose, or pressure washer to remove debris. For stains that are hard to remove, you can use a non-abrasive commercial cleaner. See more about dealing with stubborn stains.
Contact us about your driveway
We would love to talk to you about your driveway!
Call us at (281) 859-4696