Garage Floor Coatings
Just because a garage floor needs to be functional doesn't mean it can't be beautiful, too! At SUNDEK of Houston, we can install an epoxy coating that's durable and looks fantastic.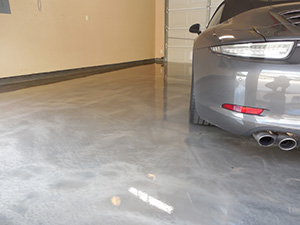 Contact us about your garage floor
Garage coating options
There are several options for coatings for garage floors. We have found that the most durable coatings are either epoxy or polyaspartic. At SUNDEK of Houston, we have several options.
Epoxy coatings:
SunEpoxy54 is a thin-mil epoxy flooring system is perfect for auto-repair shops, garages, driveways, warehouses, and spaces where light manufacturing occurs.
SunEpoxy100 provides the protection of SunEpoxy54, plus more. It's for surfaces that experience frequent heavy traffic from large vehicles and machines.
Polyaspartic coating:
SunOne is typically used when our clients need a durable surface completed quickly.
Our SunMetal product can be combined with SunEpoxy54, SunEpoxy100, and SunOne to create a metallic effect.
Design options
With the wide variety of colors available, the design options are limitless. In addition to choosing your preferred colors, patterns, and textures, you can also include additives (for example, metallic flakes, colored glass, quartz beads, etc.) to create a unique look.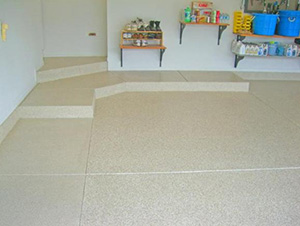 Maintaining garage floors coated by SUNDEK
Our customers are always pleasantly surprised when they discover how easy it is to clean epoxy or polyaspartic floors. Because they are non-porous, epoxy and polyaspartic floors don't absorb spills.
General maintenance of an epoxy or polyaspartic floor includes sweeping and mopping dirt and debris as needed. (Learn about dealing with tire marks on garage floor coatings.)
Contact us about your garage floor
We would love to talk to you about your garage floor! Here are a few ways to get ahold of us:
Call us at (281) 859-4696