Garage Floor Epoxy - Houston Coating Experts
Just because a garage floor needs to be functional doesn't mean it can't be beautiful, too! At SUNDEK of Houston, we can install an epoxy coating that's durable and looks fantastic.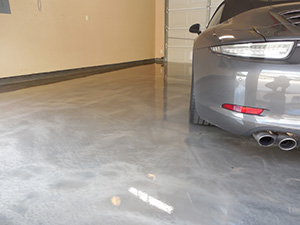 See more garage floor pictures
What is the best garage floor coating?
Epoxy floors are great for garages because they are incredibly durable and will last for decades. In addition to being able to withstand weight from cars, tools, and even machinery, garage floor epoxies can be made to look beautiful. We also offer polyaspartic coatings, which are good for garages as well.
Contact us about your garage floor
Should I paint or epoxy my garage floor?
Painting your garage floor with an epoxy paint is not the same as getting it coated with an epoxy coating. Here are some of the main differences:
When epoxy paint is used, the layer is about as thick as several coats of paint. When a 100 percent solid epoxy coating is used, the surface has a hard and durable layer.
Epoxy paint is usually made of latex acrylic with various amounts of epoxy added, depending on the product. If the epoxy paint isn't well made or doesn't actually contain any epoxy, it will eventually peel and crack. Epoxy coatings are usually made of two materials: a polyamine hardener and an epoxy resin. A contractor typically needs to mixes the two materials of the epoxy together right before applying it.
Epoxy paint is susceptible to staining while epoxy coatings are resistant to things like abrasion, chemicals, oil, grease, and stains.
Epoxy paint can typically be applied as a DIY, whereas epoxy coatings should be applied by a professional.
Both epoxy paint and epoxy coatings require several layers of product.
Garage floor coating options
When you work with us at SUNDEK of Houston, there are several options for coatings for garage floors. We have found that the most durable coatings are either epoxy or polyaspartic. At SUNDEK of Houston, we have several high-quality options.
Epoxy coatings:
SunEpoxy54 is a thin-mil epoxy flooring system perfect for auto-repair shops, garages, driveways, warehouses, and spaces where light manufacturing occurs.
SunEpoxy100 provides the protection of SunEpoxy54, plus more. It's for surfaces that experience frequent heavy traffic from large vehicles and machines.
Polyaspartic coating:
SunOne is typically used when our clients need a durable surface completed quickly.
Our SunMetal product can be combined with SunEpoxy54, SunEpoxy100, and SunOne to create a metallic effect.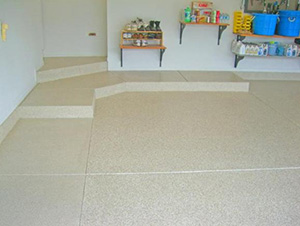 Color and flake options
With the wide variety of colors available, the design options are limitless. In addition to choosing your preferred colors, patterns, and textures, you can also include additives (for example, metallic flakes, colored glass, quartz beads, etc.) to create a unique look.
Are epoxy garage floors slippery?
As long as epoxy flooring is installed correctly, it will not be slippery. At SUNDEK of Houston, we only used tried-and-true SUNDEK products. These products are some of the best in the industry and are formulated so that they aren't slippery, even when wet. We prioritize safety, so we also install our floors with a specific texture that reduces the chances of a slip-and-fall accident.
How to resurface my garage floor
While it's possible to resurface your garage floor yourself, we highly recommend hiring an experienced professional such as SUNDEK of Houston. The steps are time consuming and require careful application.
Here are the basic steps required to apply garage floor epoxy (these steps are not meant to be instructions for installing your own epoxy coating—consult a professional or do additional research before attempting on your own):
Prepare for the process. Before you get started, read all the instructions for the products you'll be using to ensure you are familiar with how it should be applied and curing times.
Sand and clean your floor. It must be very clean—free of any oil, grease, or any other substances. Make sure there's not dust in the area so you don't end up with specks of dust on your finished floor. You need a fresh surface that the epoxy can adhere to properly.
Repair damage. Damage such as cracks or chipped spots need to be resolved before you apply the epoxy.
Apply epoxy coating. The coating should be applied according to the package instructions.
Another factor to consider if you want to apply your own epoxy coating is that the conditions need to be right for the product to cure properly. For example, if it's too hot, the epoxy may cure too quickly. If it's too cold, the product may not adhere properly.
One of the benefits of hiring an experienced professional such as SUNDEK of Houston is that we have years of experience doing this, so we are aware of common pitfalls to avoid. We are also familiar with the climate here in Houston, so we know the best times of year and time of day to apply epoxy.
How to clean garage floors installed by SUNDEK of Houston
Our customers are always pleasantly surprised when they discover how easy it is to clean epoxy or polyaspartic floors. Because they are non-porous, epoxy and polyaspartic floors don't absorb spills.
General maintenance of an epoxy or polyaspartic floor includes sweeping and mopping dirt and debris as needed. (Learn about dealing with tire marks on garage floor coatings.)
Contact us about your garage floor
We would love to talk to you about your garage floor! Here are a few ways to get ahold of us:
Call us at (281) 859-4696