Epoxy Floors in Houston and Beyond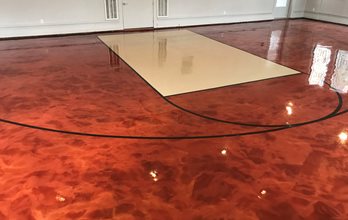 For this metallic epoxy floor we won the 2021 GOLD SunMetal award.
An epoxy floor coating not only adds to the beauty of your concrete floor, but it also offers a layer of protection for your flooring at the same time. The additional protection will vastly increase the longevity of your concrete flooring. Of course, longevity is an important topic any time you are talking about making an improvement to your property. When the work you do is able to hold up for the long run, you can avoid revisiting the project in the near future. That means savings down the line, as you continue to enjoy the performance of the epoxy floor coating for years to come.
Get a free epoxy floor estimate
One of the great things about epoxy floor coating is the many different places it can be put to use. This is not a product which should be reserved only for a narrow set of circumstances – if you have a concrete floor which sees a lot of action on a day to day basis, epoxy coating is worth your consideration.
Epoxy Flooring Applications Include:
Workshops
Game rooms
Animal clinics and boarding
Sport courts
Commercial kitchens
Grocery stores
Parking garages
Hair and nail salons
How to Customize Your Epoxy Floor Coating
We offer a wide variety of design options for your epoxy floors, including:
Colored epoxy floors
Metallic epoxy
Metallic epoxy
Epoxy paint chips
Colored quartz aggregate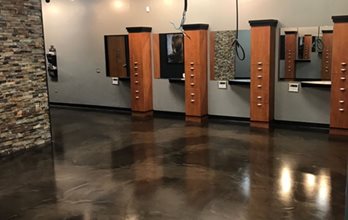 Here we installed epoxy flooring at a hair salon.
Is Epoxy Slippery?
Whether it's a two-car garage or an industrial warehouse, our epoxy flooring will add years to your floor's life, enhance the beauty of your concrete floors, and add important slip resistance to the surface. As you may know, uncoated concrete can become slippery under certain conditions, making it a dangerous surface to walk and work on. Thanks to the characteristics of epoxy flooring, you won't have to worry about that slippery tendency any longer. You should have solid footing in almost every case, as long as the floor is kept clean.
An Option for Many Settings
SUNDEK of Houston's finish is specifically designed to offer premium performance under demanding conditions. It is great for warehouses, retail shop floors, manufacturing plants, auto showrooms, auto repair facilities, food and beverage processing plants, and more. In fact, that list is just a partial accounting of the many places where epoxy floor coating will be a great choice. If you have a concrete floor which is used regularly as the home for demanding work, turning to epoxy coating makes a lot of sense. To learn more about what epoxy coating has to offer, or to speak specifically about your project, please contact us right away.
As a Sundek Authorized contractor, we are ready to install your premium epoxy flooring right away. We have been serving customers in the Houston area for 15 years, and our reputation has only grown in that time. We are one of the leading concrete repair and resurfacing contractors in the region, and we are equally comfortable on small residential projects and large commercial jobs. No matter what size project you have in mind, we hope to be your first call.
If you would like a free estimate, contact us today to get started. We appreciate your time and hope to serve you soon!
Call: 281-859-4696
We install epoxy floors throughout the Houston area, including:
Katy
Cypress
The Woodlands
Sugar Land