Restaurant & Retail Flooring Solutions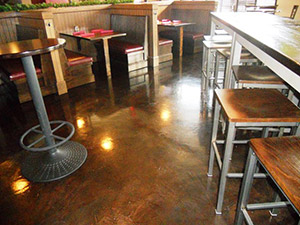 If you own a restaurant or retail store, it's critical that your floors are safe for employees and customers to walk on. It's also ideal if they are easy to clean. When you work with us at SUNDEK of Houston, we can install floors with these qualities, and we can make them beautiful, too!
Contact us about your restaurant or retail space
Safe for Customers & Employees
Your safety is our priority. By applying texture to your floor, we can make sure it's not slippery. We install coatings on pool decks, so we are well versed in creating floors that decrease the likelihood of slip-and-fall accidents.
See our other commercial concrete services.
Easy Daily Maintenance
When you work with us, we will apply a high-quality sealer to your concrete floor. The sealer will protect it from general wear and tear, fading, spills, and more.
General maintenance includes removing dust and other debris from your floor every other week or so—although in a commercial space with customers, you'll want to be removing dust and debris much more often. Be sure to wipe up spills as soon as possible. To learn how to get rid of stains that are hard to remove, look at our maintenance guide.
Custom Design Options
We love working with our clients to learn about their vision for their floor design. Since we have such a wide variety of colors, textures, and patterns available, we can create just about any design you have in mind. Also, if there's a particular material you like—such as wood, brick, limestone, or anything else—we can create that look with concrete. It'll be more durable, too!.
See photos of restaurants and retail spaces
Contact us about your restaurant or retail floor
We would love to talk to you about your project.
Call us at (281) 859-4696