Military & Government
We pride ourselves in our customer service. We work diligently to complete every project on time and within the requested budget.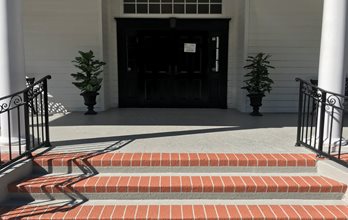 An entrance to a government building, installed by SUNDEK of Houston.
SEE PHOTOS OF MILITARY AND GOVERNMENT FACILITIES
What we do
We install high-quality coatings on surfaces ranging from locker rooms to warehouses. No matter the project at your military or government facility, we can help. We guarantee that our surfaces are:
Durable
Slip resistant
Easy to maintain
Beautiful
With SUNDEK products, design options are limitless. We have a variety of color and patterns available, and can even do custom designs such as logos or anything else you have in mind.
CONTACT US ABOUT YOUR PROJECT
SUNDEK of Houston services
How long does it take to complete a project?
The length of time it will take to complete your project depends on a few things: how large your surface is, the condition of your existing surface, what type of design you want, weather, and more. We always works diligently to complete our customer's project in a timely manner that fits their schedules. For a more precise time estimate, contact us so we can talk about your specific project.
Contact us about your project
Call us at (281) 859-4696