Offices & Business Parks – Decorative Concrete Coatings
A beautiful office workspace creates a good experience for employees and customers. At SUNDEK of Houston, we enjoy helping property owners in the area to make their spaces more attractive with eye-catching surfaces.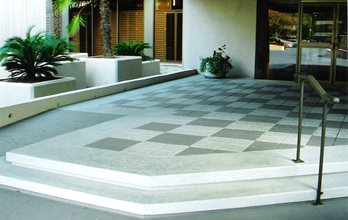 An entrance to a building in Houston, TX, by SUNDEK of Houston.
See more pictures of offices and business parks
When we ask owners of office parks and businesses what qualities they're looking for in a surface at their property, they usually want the surface to be durable, slip- and trip-resistant, and easy to take care of. With our coatings, we can give you a surface with all of those qualities. And you can customize its look to fit your aesthetic.
CONTACT US ABOUT YOUR PROJECT
Services SUNDEK of Houston provides for commercial properties
How long will it take to complete my project?
We know that you want to be able to continue business as usual as soon as possible. That's why we work diligently to complete your project by your deadline. Keep in mind that there are a few things that will affect the time it will take to complete your project: the size of your project area, the design you want, and the condition of your existing surface.
Contact us about your project
Call us at (281) 859-4696