Apartments & Condominiums – Concrete Coatings
For residents at apartment and condo complexes, surfaces that are beautiful, durable, slip resistant, and easy to clean are a must. We can help!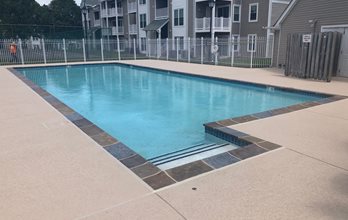 A pool area at an apartment complex in Sugarland, TX, resurfaced by SUNDEK of Houston.
See more pictures of apartments & condos
We love helping apartment and condominium property owners create beautiful shared spaces for their residents. With the color and pattern selection we have available, there are unlimited design possibilities.
CONTACT US ABOUT YOUR PROJECT
Services we provide for commercial properties
Length of time to complete project
We strive to complete every project as efficiently as possible so you can go back to business as usual. The amount of time it will take us to complete a project at your apartment or condominium complex depends on a few things: the size of the surface, the condition of the surface, and the type of design you want.
Contact us about your project
Call us at (281) 859-4696