Parks, Clubs & Municipal Facilities – Decorative Concrete Coatings
We love creating beautiful, durable, low-maintenance surfaces for spaces where people in your community can gather.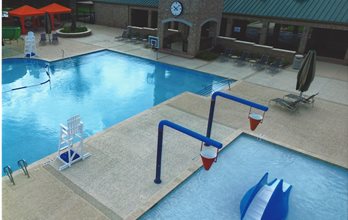 SUNDEK of Houston refinished this pool deck at a health club.
SEE PHOTOS OF PARKS, CLUBS & MUNICIPAL FACILITIES
Whether you need to repair a damaged surface or just want to update the look of a space at your park, club, or municipal facility, we can help!
CONTACT US FOR A FREE QUOTE
How long does it take for SUNDEK to complete a project?
The timeline depends on many factors including the size of your space, the condition of your surface, and the design you want. We know that you will want the work done as quickly as possible so you can continue business as usual. We pride ourselves in working efficiently so we complete our clients' projects in their desired timelines.
Services we offer
Contact us about your project
Call us at (281) 859-4696