Hotels & Motels - Concrete Coatings for Pool Decks, Lobbies and More
At SUNDEK of Houston, we love helping hotels and motels in the area create eye-catching surfaces for their common areas.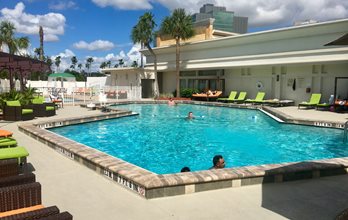 A pool deck at a hotel in Missouri City, TX, resurfaced by SUNDEK of Houston.
See more pictures of hotels and motels
Surfaces at hotels and motels get a lot of foot traffic from guests and employees. We can make sure your surface has these important characteristics:
Eye-catching
Durable
Safe (slip-resistant and without cracks and uneven spots)
Easy to maintain
CONTACT US ABOUT YOUR PROJECT
What services does SUNDEK of Houston provide for commercial properties?
How long will it take to complete my project?
The length of time it will take to complete your project depends on the size of your project, the condition of your existing surface, and what type of design you're interested in. Because we know you want to continue business as usual, we work diligently to complete your project in your desired timeline.
Contact us about your project
Call us at (281) 859-4696