Is Stamped Concrete Slippery?
4 non-slip solutions for Houston & the surrounding areas
Stamped concrete provides endless options when it comes to design. You can get the look of just about any type of material such as brick, wood, tile, limestone, and more. But clients commonly ask us an important question: Is stamped concrete slippery?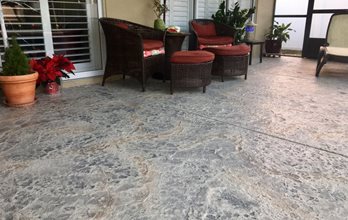 Stamped patio in Deer Park, TX.
Living here in Houston and the surrounding areas, it's critical to know how to avoid your concrete surface getting too slippery. Being in a subtropical climate, we often see rain during winter—and every few years we get severe rainfall.
Since stamped concrete has texture on the surface, that does help to create a non-slip profile. But when it's sealed, stamped concrete can be slippery when it gets wet. Read on for ways to avoid slippery stamped concrete.
Get a free quote
1. Choose the right pattern
The size and height of the texture of your stamped concrete can affect how slip resistant it is. A low and flat texture will be less slip resistant than a taller texture. Another factor that helps achieve the right texture is ensuring your concrete is stamped at the correct time after the concrete is poured.
2. Choose the right sealer
Penetrating sealers soak into the concrete while glossy, film-forming sealers can create a slick surface. If you want the look of natural stone, a penetrating sealer is a great choice. Neither is right or wrong, but it's important to know the difference. If you decide to choose a film-forming sealer, you'll need to include additives (see more about this below).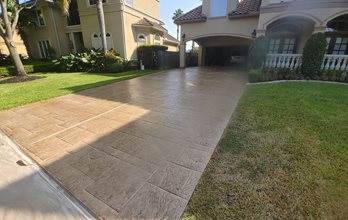 Stamped driveway in Missouri City, TX.
3. Use the right additives
Some clients love the look of a glossy, film-forming sealer. If that's the case for you, you can include a slip-resistant additive to add some grit to your stamped concrete.
Synthetic materials such as polypropylene beads or "Shark Grip" work for residential and light commercial applications while hard mineral materials such as aluminum oxide or silica sand work for commercial, heavy traffic areas, or steep slope situations.
If you use smaller, particle size aggregates, they do achieve good traction, but it makes the surface difficult to clean. Larger particle sizes that are spaced farther apart provide traction and are easier to clean. A good contractor will find the right balance between size and distribution.
4. Apply sealer properly
To prevent a slippery surface, apply a thin coating of sealer. A thick coating of sealer will not only make your surface more slippery—it will also create a whitish film on your concrete.
Stamped pool deck at an apartment complex in Spring, TX.
Ways SUNDEK of Houston can help
If you're in the Houston area and already have stamped concrete that doesn't have good traction, we can reseal it using additives. If you're considering a new stamped pool deck, patio, or driveway, we'll ensure it isn't slippery by employing both texture and good sealing practices.
Need help figuring out what's right for your surface? Contact us! We'll look at your project, discuss your best options, and give you a free quote.
Are there other decorative systems for slip resistance?
SUNDEK's Classic Texture system is known in the industry for having an ideal effect to reduce the slipperiness of a surface.
In fact, it's so effective that its most common use is around swimming pools and other wet environments where slip resistance is important.
Although Classic Texture doesn't necessarily need a finish coat with slip-resistant additives, clients often request them for added peace of mind.
Related
Learn more about stamped concrete.
Get more information about slippery stamped concrete on the SUNDEK corporate website.
Contractor in the Houston area
SUNDEK of Houston is a local contractor who has worked with many homeowners and commercial property owners to create surfaces that are slip resistant.
At SUNDEK of Houston, we service Houston in addition to all the major cities in the area including Aldine, Baytown, Bellaire, Cinco Ranch, Cypress, Deer Park, Humble, Jersey Village, Katy, La Porte, League City, Meadows Place, Mission Bend, Missouri City, Pasadena, Pearland, Spring, Sugar Land, The Woodlands.
We'd love to help with your project. Contact us for a free quote!
Call us (281) 859-4696
Or fill out the form on this page
If you're not located in or near Houston, TX, find a contractor near you.