Give Your Concrete Surfaces A New Lease On Life With Concrete Repair Services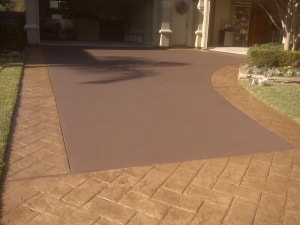 While concrete is a highly durable material, and is a great to use for a variety of surfaces, the reality is that it is prone to damage and may be in need of repair. Different types of pressure can impact on your concrete and depending on the level of impact, can cause damage of varying degrees – from hairline cracks to major fractures. What's more, the porous surface of concrete makes it vulnerable to stains and discoloration, which can be quite unsightly too.
But you don't have to sit and watch your concrete become rundown or damaged, when the solution is simple and accessible. At SUNDEK of Houston (formally Bullion Coatings) we offer concrete repair services for this very reason. Our concrete repair experts can inspect and assess your concrete surfaces, work out what options are available to you to save your concrete, and use the latest, most effective repair solutions to rejuvenate your concrete surfaces.
Crack repair can be achieved by the use of high quality polyurethane or epoxy resins that are injected into the cracks in your concrete using a non-disruptive, low-pressure injection system. Using a system like this ensures that repair is carried out while not interfering with the integrity of the rest of the concrete that it is intact. The repair method is designed to make cracks on your concrete disappear and re-strengthen the surface.
SUNDEK of Houston also offers services to restore concrete that is blemished by stains or discoloration. A combination of factors may contribute to your concrete losing its original color and look, including the changes incurred over time due to the effects of the weather, water and various chemicals. You have the option of restoring your concrete to its original look, or you can use the opportunity to transform the space and give your concrete a new look.
Various options are available for concrete restoration or refinishing, which is a way of repairing your concrete, but at the same time, dramatically improving its appearance. For example, stamped overlays allow you to add a decorative touch to your concrete, such as a tiled pattern or cobblestone look.
Our concrete repair services can give your concrete surfaces a new lease on life – durability and appearance wise. Whether you have concrete in the driveway, patio, around the swimming pool, or anywhere else that needs repairing or restoring, SUNDEK of Houston can address your specific needs and leave you with healthy concrete that's pleasing to the eye.