Concrete Resurfacing Costs for Houston and the Surrounding Areas
The most common question related to concrete resurfacing is: How much does concrete resurfacing cost?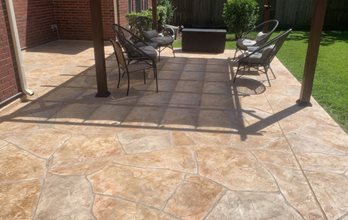 SUNDEK of Houston resurfaced this patio area in Sugarland, TX.
Although we wish we could answer that question for everyone right away, the honest answer is that it depends. Concrete resurfacing can cost as little as $3 per square foot or as much a $25 per square foot. In this article, we will cover some of the aspects of concrete resurfacing that affect the cost of the project.
Here are several factors that affect the cost of your concrete resurfacing job:
Size of your project. Obviously, a pool deck will cost more than a small restroom. But even two bathrooms won't be the same size. That's why a contractor needs to measure your space to give you an accurate quote.
Condition of your existing concrete. If your concrete is in really good shape, it's going to cost less than a concrete surface that has a lot of hairline cracks and chipping since damage must be repaired before applying a decorative coating.
Product. We have a variety of products to choose from, and they all differ in cost. The product you choose will influence the cost of your project.
Design. A design with multiple colors will cost more than a monotone design. If you choose an intricate pattern for your floor, that will also require more time during installation, which results in a higher project cost.
Contact us for a free quote
*Minimum prices for various applications range from $850 to $3500.
How the condition of existing concrete affects cost
We are experts in concrete repair, so repairing damaged concrete is not a problem. However, it will cost more to resurface concrete that needs repair. We believe it's a cost that's well worth it, though. In addition to repairing your concrete, we will determine the cause of the damage and help figure out how to prevent it from happening again.
How the design of your new concrete surface affects the cost
Concrete resurfacing opens a world of possibilities when it comes to design. At SUNDEK of Houston, we can resurface concrete to fit the style of any residence or business. We can make just about any design vision happen, but the cost does vary depending on what you choose. Here are some of the design variables that can impact the cost of your project.
Color. Pick one color or multiple colors.
Pattern. Our clients opt for everything from no design to intricate, detailed designs. We have even created customized stamps for our clients who want a specific logo embedded into their floor.
Texture. Choose something simple or sophisticated.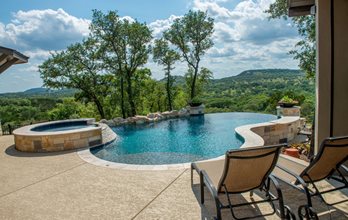 SUNDEK of Houston resurfaced this pool deck with a Classic Texture finish.
Is it better to tear out concrete or resurface concrete?
If you have a viable surface that doesn't have significant cracks or other irreparable damage, then it is best to resurface your concrete rather than tear it out and replace it. Here are some reasons why:
You can skip the mess. No matter how careful a contractor is, demolishing concrete creates a mess. By resurfacing your concrete you can skip the dust, noise, and extra time tacked onto your project.
It's more environmentally friendly. If you can use what you have and improve upon that, it's usually a better option that starting from scratch. If you have your concrete surface torn out and replaced, all the pieces of torn out concrete will need to be disposed of properly.
It costs less. If you choose to resurface, you eliminate the cost of demolition, material removal, and pouring a new surface. So as long as your surface is viable, resurfacing it will be the least expensive option.
Who resurfaces concrete near me?
We service all the major cities in the area including Houston, Aldine, Baytown, Bellaire, Cinco Ranch, Cypress, Deer Park, Houston, Humble, Jersey Village, Katy, La Porte, League City, Meadows Place, Mission Bend, Missouri City, Pasadena, Pearland, Spring, Sugar Land, The Woodlands, and the surrounding areas.
Here's a review from one of our customers:
I wanted to comment on the outstanding job that you and your crew performed on my patio. The coating makes my concrete look great. The work was completed in a timely manner and the clean up was thorough. I found your cost very reasonable. I was very impressed. —David L.
We'd love to help with your project!
Call us at 281-859-4696