6 Concrete Resurfacing Ideas for Houston and the Surrounding Areas
Concrete resurfacing offers homeowners and commercial property owners a wide array of options when it comes to redesigning their surfaces.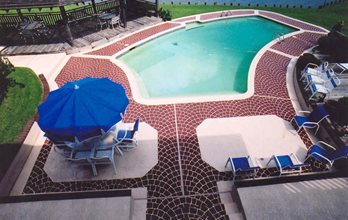 For this pool deck in League City, we created a circular brick pattern, giving the client the look of brick with the toughness of concrete.
SEE PHOTOS OF OUR WORK
If you live in Houston, Sugar Land, Katy, League City, or any of the surrounding areas, SUNDEK of Houston can help make your home or business a visually inspiring spot. Here are six concrete resurfacing ideas to refresh your space.
CONTACT US FOR A FREE QUOTE
1. Get the look of any material—but with the durability of concrete
Stamped concrete gives you the ability to get the look of just about any material but with the benefits of concrete. For example, many of our clients love the look of pavers but know that pavers can eventually pop out of place, creating an uneven surface. Others love the look of brick but don't love the price required to pay for the labor to lay the brick. Some want to incorporate wood for a classic or rustic look but are hesitant at the prospect of termites or wood rot. With stamped concrete, you can get the look of pavers, brick, wood, limestone, and more. Experienced contractors such as SUNDEK of Houston can even create custom stamps. So if there's a pattern, design, or even a logo you like, we can make it happen.
SUNDEK of Houston uses SUNDEK's SunStamp resurfacing product. This stampable overlay can be used over existing concrete slabs, stucco, drywall, brick, and more.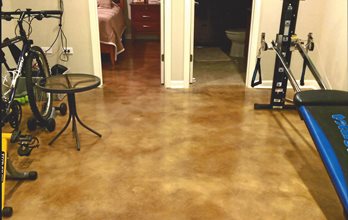 At this residential gym, we stained the surface for the homeowner to create a subtle yet polished look.
2. Stain your floor to coordinate with your space
When you have your concrete surface stained, you have a variety of colors to choose from: acid stains come in earth tones while water-based stains are more vivid. During the application process, the color penetrates the surface. That means it won't peel away, fade, or chip like concrete paint (learn the difference between concrete stain and concrete paint). It will last longer if you coat it with a high-quality concrete sealer.
Staining concrete is a great option for anyone—whether you have a perfect concrete surface that you want to refresh with some color, or you have a damaged concrete surface that needs some work.
3. Transform your surface into a work of art
Ranging in styles from elegantly subtle to vibrant and eye-catching, metallic epoxy floors are like an art installation you can walk on. Plus, they are incredibly durable and last just as long as other decorative concrete surfaces. With metallic floors, you can customize the look with a variety of colors, the amount of metallic additive you use, and a range of application techniques that can change the effects.
With SUNDEK's SunMetal product, there are 12 colors to choose from, but we also work with our customers to create custom colors that suit their spaces perfectly.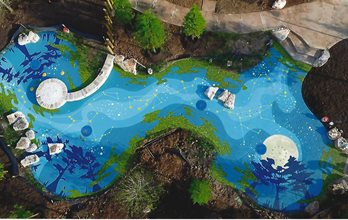 At the Sawmill Lake Club in Missouri City, TX, we installed this artful splash pad designed by the firm TGB using 14 custom colors.
4. Create custom patterns and color combinations
Subtle designs are beautiful, but sometimes homeowners and commercial property owners desire a little more pizzazz. Resurfacing offers many design possibilities, so remember that you don't have to limit yourself to one color or pattern. An experienced contractor such as SUNDEK of Houston can help narrow down design ideas to come up with something perfect for your space.
At SUNDEK of Houston, we create custom designs and custom colors. In fact, for a project at the Sawmill Lake Club in Missouri City, we created 14 custom colors to depict the swamps of Louisiana with the stars reflected in the water.
We would love to help make your vision a reality! Contact us so we can take a look at your site and talk about the possibilities.
For a homeowner in Humble, TX, we applied an epoxy coating to this garage floor to create a workspace that's both attractive and made to last despite lots of foot traffic in addition to tool and vehicle storage.
5. Make your surface more durable
If you're looking for a durable surface, epoxy or polyaspartic coatings are a great option. We find that the best way to convey the strength of these coatings is share the fact that they have been used in airport hangars. The coatings can withstand the weight of very heavy machinery, tools being dropped on their surface, and even spills ranging from oils to chemicals. Because epoxy and polyaspartic coatings are non-porous, they're easy to clean, too. And we can incorporate your design ideas, making your durable surface beautiful.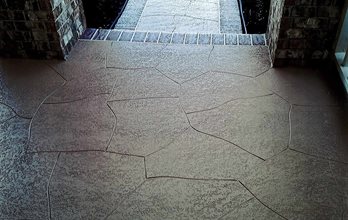 This surface has been treated with SUNDEK's Custom Scoreline Effect which makes it possible to restore cracked concrete, creating a surface that looks brand new.
6. Revive cracked concrete
If your concrete surface is cracked, it's not a lost cause. With SUNDEK's Custom Scoreline Effect, we can revive cracked concrete by incorporating small cracks into the design of the surface and preventing future damage. We use a grinder wheel to open existing cracks and create scorelines on the rest of the surface to create an intentional pattern. We then fill the cracks with a urethane sealant to prevent further cracking and blend the old cracks with the newly created design. We then apply a finishing coat and…voila! Taking this approach to cracked concrete not only makes it look new again, but it also makes it less likely the surface will crack again.
Concrete resurfacing in Houston and the surrounding areas
SUNDEK of Houston is a contractor in the area with decades of experience. We would love to talk to you about your concrete resurfacing.
Call us at (281) 859-4696