Stamped Concrete Floors Make Elegant Home Interiors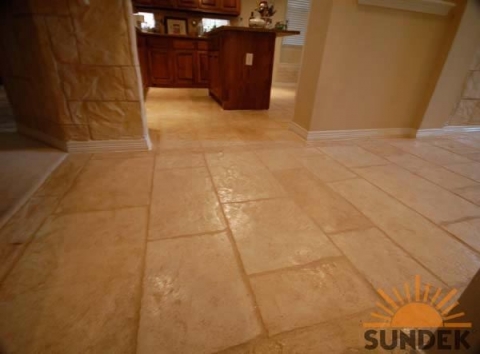 Stamped concrete is a popular decorative concrete solution that is often done outdoors on patios, pool decks, driveways, and more. It features decorative patterns, colors, and a slip-resistant surface. While it is often associated with outdoor spaces, it can also be used indoors. You'd be surprised at how elegant an interior stamped concrete floor can be. Here's how you could pull it off:
1. Choose a Pattern Carefully
There are certain stamped concrete patterns that just would not look appropriate indoors, like some natural stone types. Commercial interior flooring, however, would be able to pull that off. To be safe, choose patterns of materials that are often used indoors, like wooden floorboards, tile, or brick. Too much texture would be uncomfortable to walk on and furniture would not be able to stand evenly with too many dips and elevations on the floor.
Contact us for a quote
2. Consider the Furniture and Decor
If you have highly decorative furniture and decor, like with intricate patterns and details, choose a more subtle pattern and color so as not to make it look too busy. A subtle pattern will even things out, giving the eyes a rest. If you have subtle colors and designs on your furniture and decor, a strong pattern with bold colors would be alright to use. If you are going to place a huge rug on it afterward, make sure that the pattern contrasts with the rug.
3. Create Focal Points
While stamping the entire floor area is the most common way to go, you can choose to stamp patterns on certain areas only. You can create a border about a foot away from the walls, framing the entire floor space of a living room, bedroom, or kitchen. You can even use stamped concrete on a fireplace and it would really look good with a natural stone pattern.
4. Make it Shine
Concrete contractors highly recommend sealing a stamped concrete floor, even for interior ones. If you want it to look elegant, why not choose a high gloss level sealer? The shine makes the floor look more luxurious and high-end. Also, the high level of shine helps conserve energy by reducing the need for more lighting, thanks to the reflectivity of shiny floors. The one place where you can skip the high shine is the kitchen. A matte or semi-gloss stamped concrete floor looks great in a well-lit kitchen, plus the lack of shine makes the surface safer to walk on.
Stamped concrete overlays in Houston and the surrounding areas
SUNDEK of Houston is a contractor in the area with decades of experience. We would love to talk to you about your project.
Call us at (281) 859-4696