A concrete patio is a perfect entertainment area right outside your home. However, it is not enough for the great view and fresh breath of air to make this outdoor living space a hit among family and friends. It also has to be equipped with decorative elements that would enhance the outdoor experience. Decorative concrete is one of the most popular patio resurfacing options among residential properties. Here are some great design ideas for a breathtaking stamped concrete patio:
Grouted Natural Stone
For homeowners who want the look of natural stone, stamping is a great way to acquire that at a more affordable concrete patio cost. Old English slate, for example, is one of the most sought-after designs. The concrete overlay can be stained or dyed with a pale blue color and then custom scorelines can be added to mimic grouting lines.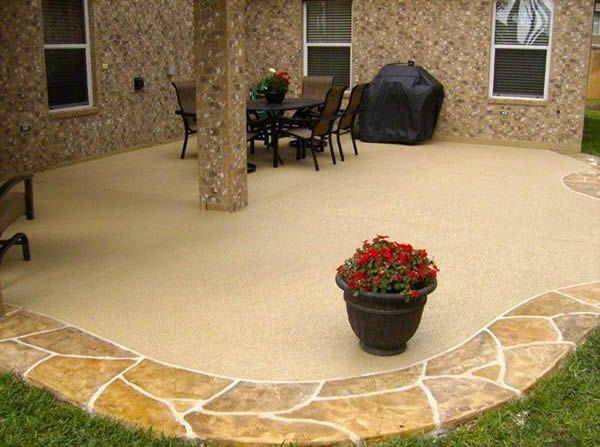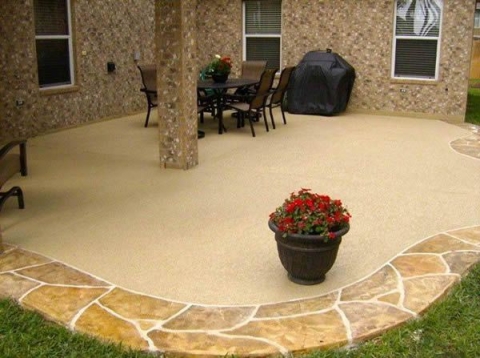 Colored Borders
It is great to have one pattern stamped on the entire patio but for a more decorative and interesting look, borders can be added to frame the stamped patio. This can be in a completely contrasting pattern and with a different color as well for better distinction. As an example, the patio can be a paver pattern and the borders designed as ashlar slate.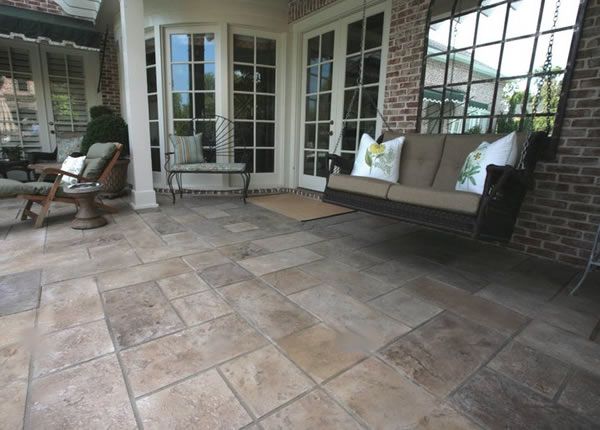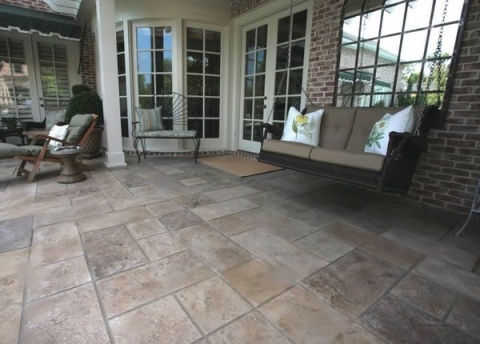 Travertine Look
Travertine is one of the most popular outdoor flooring materials. Stamped concrete can be designed to make it look just like this high-end material with an ashlar travertine stamp and realistic coloring effects. An antiquing solution can also be applied to make it look more natural and weathered.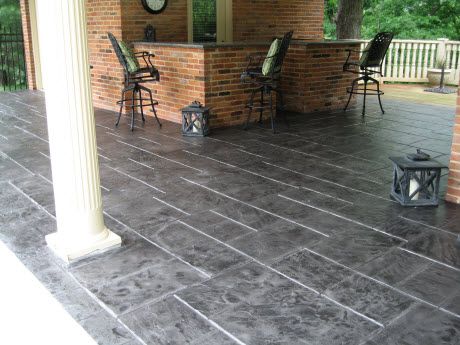 Natural Gray Concrete
For those who prefer the natural gray color of concrete, a concrete patio contractor can stamp the concrete overlay with a decorative pattern so as not to make the surface too industrial-like. Great patterns for this are brick, ashlar, herringbone, fan, and more. This is a great option if there are too many features on your patio already, such as a fire pit, a pergola, or other fancy amenities. The natural gray balances the look of the patio.
Custom Stamped Concrete Patio Patterns
While there is a wide selection of stamp patterns available that replicate a more expensive flooring look, some homeowners create their own unique looks. This may include stars, shapes, or even letters. It is important to ask a local contractor if this is something they do and if any additional costs would be charged for personalized designs.