Top 5 Stamped Concrete Patterns
Stamping Concrete is a type of decorative flooring process that involves imprinting or embossing a design or pattern onto concrete using concrete stamps. This is a more economical way to acquire the look of pavers and tile. There are many benefits if you choose to stamped concrete patterns and colors rather than have individual units of pavers installed on your patio, pool deck, or driveway.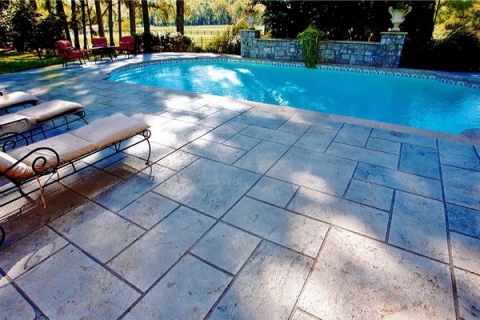 Here are some of the most noteworthy advantages:
Cost-effective
Quick and Easy Installation
Ease of Maintenance
Durability
Wide Range of Designs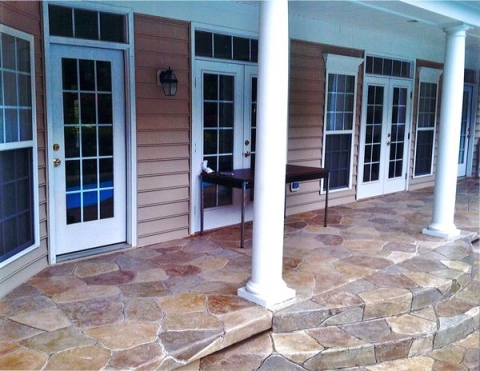 Stamped Concrete Designs and Patterns
There are several varieties of concrete stamp patterns available nowadays but here are the top choices for both residential and commercial application:
1. Slate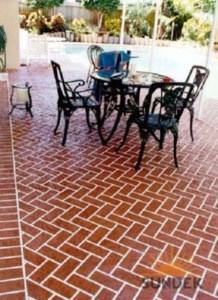 This is a metamorphic rock characterized by its "slaty cleavage" whereas it breaks or splits to a flat, smooth surface. This makes it an ideal material for floors, countertops, and even roofs. The same look of slate pavers can easily be replicated in concrete stamping patterns at a fraction of the cost of an actual slate installation.
2. Flagstone
Known as a type of sandstone, this sedimentary rock easily breaks into flat layers, thus, making it an ideal paving material for floors and walls. Flagstone stamped concrete resembles the natural stone so much that you can barely tell the difference.
3. Brick
This is one of the most common paving and wall materials used to acquire an old world sophisticated look. It can be quite expensive and installation could take time because each piece needs to be placed accurately depending on what pattern is being followed.
Concrete stamped brick design is a more affordable alternative and it comes in a variety of patterns. Some of the most popular are:
Herringbone – a pattern of bricks that resembles the bones of a herring fish.
Running Bond – the most common pattern for bricks, where two ends of a brick meet in the middle of the brick in the next row, and so on.
Fan Stone – a set of bricks laid out in a series of arches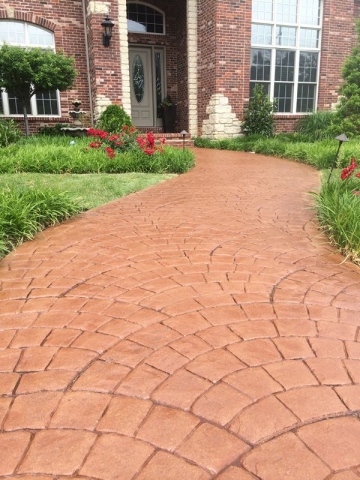 4. Cobblestone
Often used in old architecture among the roads of Italy and London, cobblestones are rounded lumps of stones set on mortar to create a more convenient road for horses and carriages. Its classic look can be replicated on concrete using cobblestone stamped concrete patterns.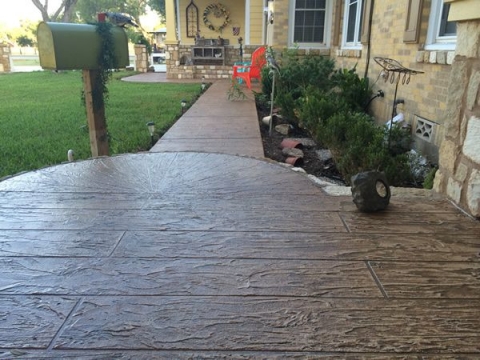 5. Classic Wood
Wood provides that classic, rustic look that most homeowners love. However, it can be quite tricky to use such material outdoors because of its high upkeep requirement. Fortunately, concrete can be stamped with a classic wood pattern to give the appearance of real wood and the durability of cement.
Your options don't stop here. Check out these other stamped concrete pattern choices that can further customize your project.
ASHLAR STONES – This pattern features the look of stones that are hand-chiseled in rectangular shapes of various sizes; the layout can be in a continuous parallel, horizontal, or random pattern, which is a deliberate discontinuous pattern of vertical and horizontal pattern.
BASKET – This is a woven look similar to a basket, whereas a pair of bricks is laid out vertically, then horizontally, in an alternative fashion.
BORDER – This features the look of vertical bricks stacked in even rows and columns. A single row can be used as a border, while multiple rows can be used on narrow paths as its simple, vertical pattern helps lure the eyes forward.
CIRCLE STAR – This pattern consists of one major design: a star within a circle. This can be used as a focal point or stamped repeatedly as a pattern.
CIRCLE STONES – This is a pattern where stones are laid out in a circular pattern, starting with one piece in the middle.
COBBLE STONES – This pattern aims to mimic the look of cuboid cobblestones, like the ones on Rome's streets. Its aged appearance gives it the old world sophistication it is known for.
FAN STONE – This is a variation of cobblestones wherein the pattern shows stones laid out in a series of arches.
FLAG STONES – This pattern aims to replicate the natural look of flag stones. Often, stones look irregularly cut. The surface is then hand-stained in a variety of colors for a more natural appearance.
HERRINGBONE – One of the most popular types of stone patterns because of its complexity and aesthetic appeal. It features brick-sized stones arranged alternatively to create a continuous V layout. It has a tendency to draw the eyes forward, thus, making it an ideal pattern for small and narrow spaces.
LONESTAR – This features a simple star pattern, without a circle around it, which can be used as a focal point or stamped repeatedly in a series.
MEDITERRANEAN TILE – A complex pattern that resembles the Mediterranean tile mosaics often lad out on floors, walls, and backsplashes.
NUMBERS – These are often customized into a customer's property to determine a house number, or anything that has meaning to them.
NEW YORK BLOCK – This is quite similar to brick wall but the rectangular shapes are longer, almost like how wooden planks would be arranged on a floor. Unlike a brick pattern, their ends do not meet in the middle of the rectangular shape in the next row.
PALO VERDE – Like other natural stone patterns, this features random sized stones with somewhat rounded and smooth edges.
PAVERS – This pattern aims to replicate the look of interlocking pavers, regardless of shape.
RANDOM – This is a pattern that features random stone shapes and sizes laid out beside each other to create a complete floor surface. Often, the edges are left rugged and rough.
RUNNINGBOARD BRICK – This is very much similar to a wall brick pattern. The difference is one the grout width and the sizes of the bricks. This tends to have a wider gap between bricks.
WALL BRICK – This pattern aims to replicate the look of a brick wall without the need for stacking real brick. This can be used on both walls and floors.