Painting A Pool Deck: Is it a Good Idea?
If you're looking to refresh a faded pool deck or update its look, you may have come across pictures or information about painting pool decks. Before taking the plunge and applying paint to your pool deck's surface, make sure to consider all the pros and cons of painting a pool deck and explore other options.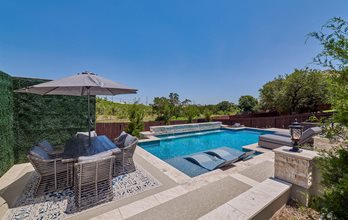 In Woodlands, TX, we resurfaced this concrete pool deck to create a beautiful and comfortable surface for people to hang out poolside.
Why paint a pool deck?
For many, painting a pool deck sounds like an ideal solution. Paint is often considered a quick and low-cost way to add color to a surface. It's also viewed as a simple DIY that can be achieved by anyone who has access to the right paint and application tools—and the patience to apply the paint meticulously for the best result. Paint is also available in a wide variety of colors.
Get a free quote
How do you paint a pool deck?
This overview of how to paint a pool deck is not meant to be used as a how-to guide. Always consult the manufacturer instructions on the paint you purchase to make sure you are applying it correctly.
Prepare your surface. Your surface needs to be very clean—free of all dirt and debris—so the paint adheres properly. Remnants of dirt or small pieces of plant beneath your paint will create places on your deck that will eventually peel off and need to be touched up. Stains should also be removed so they don't show through. Preparation also includes using a pressure washer to ensure that your surface has been thoroughly cleaned.
Prime with an epoxy using the manufacturer's instructions as your guide. Allow the epoxy to cure. You'll need to make sure nearby sprinklers are off and that rain isn't in the forecast within the drying time. Water will interfere with the curing process.
Apply paint using a roller. You must use paint specifically formulated for pool decks. Make sure the paint is spread out evenly and doesn't puddle up in some spots of the deck (pay special attention to any uneven spots on your pool deck surface to check for paint pooling up). Read the manufacturer's instructions to see how long you should allow the paint to dry, then apply a second coat.
Apply concrete sealer using a roller. Be sure to apply the sealer evenly so that the color of the paint looks consistent on the entire deck—thicker spots of sealer will alter the color, creating streaks. Allow the sealer to dry according to the instructions from the manufacturer.
How long will paint last on a pool deck?
It's difficult to say how long a painted pool deck will last, as a lot of it depends on the type of use the pool deck gets. If it's at a commercial property such as an apartment complex or hotel, it will surely get more use and therefore wear out faster than a painted pool deck at a private residence. A pool deck painted with the correct materials and proper techniques can last anywhere from 3 to 5 years, give or take (remember—it depends on how it's used).
Can you paint a damaged pool deck?
If you have a damaged pool deck, painting it is not the right solution. For example, if your pool deck is already chipping, the pool deck paint is not going to fix that problem. You will end up with chipped paint on top of your chipped concrete. Pool deck paint adheres best to a concrete pool deck that's in great condition and doesn't have any damage.
A warning about painting your pool deck
If you plan to paint your pool deck, keep in mind that paint eventually chips. So, if after 5 or so years it's looking worse for the wear and you want to repaint it, you're going to need to strip the surface and completely clean it again to apply a new coat of paint.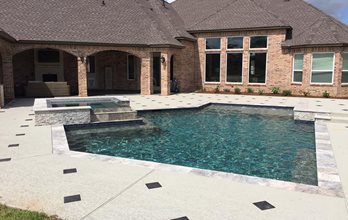 We resurfaced this pool deck in Katy, TX, to create a chic surface that coordinates nicely with the home's brick façade.
How can I update my pool deck without painting it?
Resurfacing is a great option for people who want to update the look of their pool deck or repair a damaged pool deck without tearing out their existing surface.
What is pool deck resurfacing?
A professional contractor can apply a concrete coating directly to the top of your existing pool deck. That means you don't have to tear out the concrete you already have, saving you the mess and cost of a demolition job.
Concrete coatings can be applied in various ways to create different textures. After the coating is applied, an experienced decorative concrete contractor such as SUNDEK of Houston can customize the coating to give it a design you love.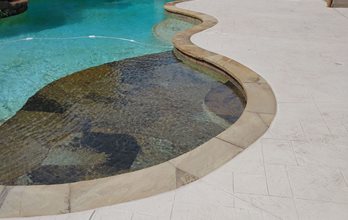 At a residence in Katy, TX, we applied a decorative coating then stamped the pool deck to mimic the look of pavers.
How do you resurface a pool deck?
Here is a general overview of how to resurface a pool deck, but the details vary depending on which products you use. This is not meant to be used as a how-to guide.
Prep and repair your existing surface. The goal here is to create a porous concrete surface, which can be done through etching, grinding, or shot blasting. Cracks and other damage should also be addressed at this stage.
Clean and prime your pool deck. Use a high-power pressure washer to clean the surface then let it dry thoroughly. Apply a primer if necessary.
Mix the product. Following the manufacturer's instructions, mix the product to prepare it for application. Mix in color if necessary.
Apply the overlay. The way you apply the overlay depends on what look you're going for. You can either spray it, roll it, or use a trowel to apply it. Allow enough time to cure before moving on to the next step.
Apply a sealer. A sealer provides additional protection, greater strength, and enhanced stain resistance—essential for areas such as pool decks that get a lot of use and are exposed to things like chlorine and oils from sunscreen.
Can I resurface my pool deck myself?
Concrete coatings are not easy to apply, so resurfacing a pool deck is not a simple DIY project. Although you can technically do it yourself, we recommend hiring a concrete contractor in your area who has experience applying coatings.
An experienced contractor such as SUNDEK of Houston has access to the proper tools for the job and knows the common pitfalls experienced when resurfacing and how to avoid them. If they're a local company, they're also familiar with what types of weather conditions are good and bad to resurface in (high humidity, for example, can lead to bubbling up—not a good look for a pool deck). For these reasons and more, it's a good idea to get a quote from a professional.
How much does it cost to resurface a pool deck?
The cost of your pool deck resurfacing project depends on many factors including how large your pool deck is and what type of condition is in, in addition to what type of design and product you want. In general, concrete resurfacing can cost as little as $3 per square foot or as much a $25 per square foot. Learn more about cost here.
The best way to get an accurate estimate for your project is to request a free quote.
What types of designs can you do with decorative concrete coatings?
With decorative concrete coatings, the design options are endless. You can go for something classic or create a custom look that's specific to your style. We use SUNDEK products which gives us access to a wide variety of colors, patterns, and textures.
Using stamping, we can even create the look of brick, cobblestone, natural stone, or any other material you like. Several commercial clients have asked us to create company logos while homeowners have asked us to imprint the logo of their favorite sport's team. At SUNDEK of Houston, we love making our clients' visions a reality.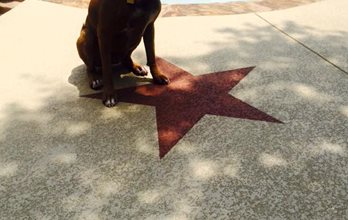 For this residential pool deck in Cypress, we used Classic Texture on the deck to create a cool surface then added a decorative star at the owner's request.
Who does pool deck resurfacing in my area?
At SUNDEK of Houston, we service Houston in addition to all the major cities in the area including Aldine, Baytown, Bellaire, Cinco Ranch, Cypress, Deer Park, Humble, Jersey Village, Katy, La Porte, League City, Meadows Place, Mission Bend, Missouri City, Pasadena, Pearland, Spring, Sugar Land, The Woodlands.
We'd love to help with your pool deck project. Contact us for a free quote!
Call us (281) 859-4696